'Young Adult' Red-Band Spot: Sample Charlize Theron's Unhinged, Anti-Social Tendencies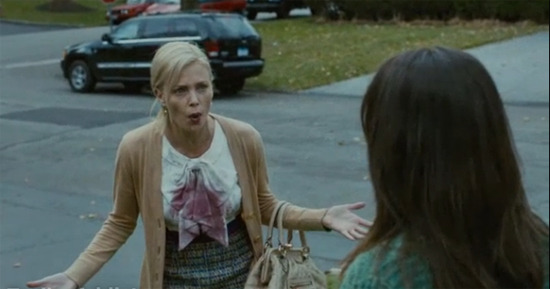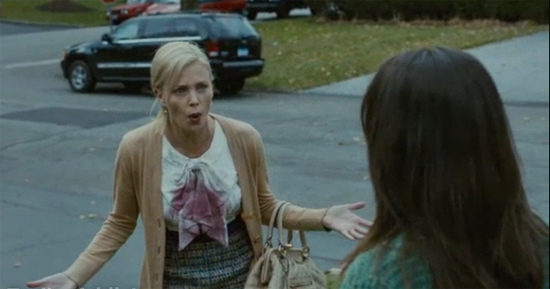 In the spirit of accepting that Jason Reitman's new film, the Diablo Cody-penned Young Adult, is about a really terrible, damaged woman, here's a new red-band spot that seeks to show off just how abrasive she can be. Charlize Theron plays Mavis, a successful youth-lit writer who can't quite manage to grow up, and who travels back to her hometown to try and win back an old ex, despite the fact that he is now married with a kid.
The film looks like a left turn from films like Juno, Thank You For Smoking and Up in the Air. All of those offered comedy with a certain edge, but none were as deeply dark as Young Adult seems to be. The highlight here, as this spot suggests, is going to be the performance from Charlize Theron, who gets to slink through the movie wielding the sort of unrestrained psychosis that so many of us want to unleash on a semi-regular basis.
I'm not sure where this red-band spot is meant to run, but it gets the idea across regardless. You'll have to take a look at the actual trailer to see the movie's secret weapon, though. That's Patton Oswalt, who delivers another small comic/dramatic turn that is earning a lot of praise.
Young Adult hits theaters December 16, 2011.
Academy Award(R) winner Charlize Theron plays Mavis Gary, a writer of teen literature who returns to her small hometown to relive her glory days and attempt to reclaim her happily married high school sweetheart (Patrick Wilson). When returning home proves more difficult than she thought, Mavis forms an unusual bond with a former classmate (Patton Oswalt) who hasn't quite gotten over high school, either.