Geek Deals: The Ultimate Matrix Blu-Ray Collection $25.49, It's A Wonderful Life For 8.99 DVD, $13.99 Blu-Ray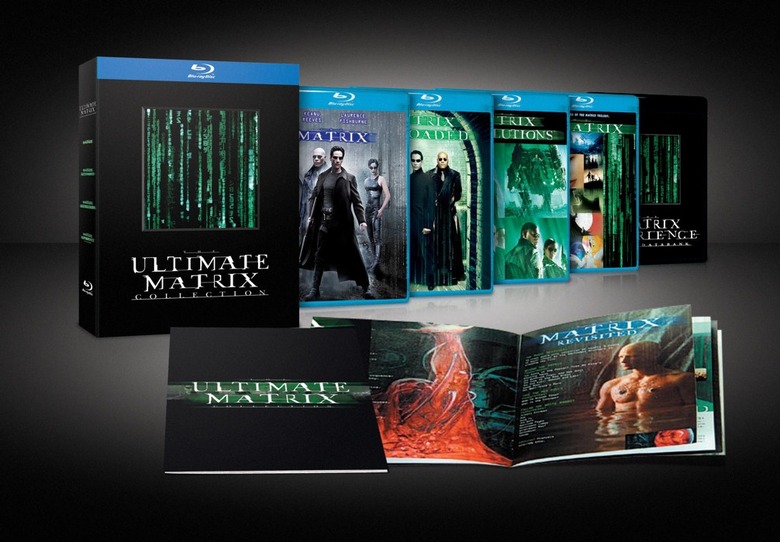 We may receive a commission on purchases made from links.
Today's Amazon Gold Box Deal of the Day is The Ultimate Matrix Collection Blu-Ray for $25.49 ($65 msrp). The Gold Box Deal of the Day is only good for 24 hours and will disappear at midnight. So act fast.
This seven-disc collection contains the complete Matrix Trilogy in high definition video and lossless high definition 5.1 audio (Dolby TrueHD) — each with hours of special features including WHV's ground-breaking In-Movie Experience. The Animatrix, the nine-part anime film, three additional bonus discs include more than 35 hours of additional features and a digital copy of The Matrix. Full list of special features after the jump.
Also, they have a one day only deal on It's A Wonderful Life, selling the Blu-ray for only $13.99 ($30 msrp) and the two disc collector's DVD set for only $8.99 ($20 msrp).
Disc #1 – The Matrix (1999)
In-Movie Experience
Written introduction by the Wachowski brothers
Philosophers commentary by Dr. Cornel West, Ken Wilber
Critics commentary by Todd McCarthy, John Powers, David Thomson
Cast and crew commentary by Carrie-Anne Moss, Zach Staenberg and John Gaeta
Composer commentary by Don Davis with music-only track
The Matrix Revisited
Making The Matrix The Dance of the Master: Yuen Wo Ping's Blocking Tapes
The Bathroom Fight and Wet Wall
The Code of the Red Dress
The Old Exit: Wabash and Lake
Agent Down
But Wait- There's More
Take the Red Pills
Follow the White Rabbit
The Music Revisited
Marilyn Manson Music Video Rock is Dead
Trailers
Disc #2
The Matrix digital copy
Disc #3 – The Matrix Reloaded (2003)
In Movie Experience
Written introduction by the Wachowski brothers
Philosophers commentary by Dr. Cornel West, Ken Wilber
Critics commentary by Todd McCarthy, John Powers, David Thomson
Behind The Matrix
The Matrix Unfolds
Pre-Load
Get Me an Exit
The MTV Movie Awards Reloaded
The Freeway Chase
Oakland Streets and Freeway: Unseen Material
Tour of the Merovingian's Garage
Queen of the Road
Arteries of the Mega-City: The Visual Effects of the Freeway Chase
Foresight: Pre-planning the Mayhem
Freeway Truck Crash: Anatomy of a Shot
Fate of the Freeway
Freeway Action Match
Teahouse Fight
Unplugged
I'll Handle Them
The Exiles
Additional footage
Enter the Matrix: The Game
Enter the Matrix
Music video – P.O.D. Music Video Sleeping Awake
Disc # 4 – The Matrix Revolutions (2003)
In-Movie Experience
Behind the Story
Written Introduction by the Wachowski Brothers – The Wachowski brothers give you an introduction to their groundbreaking film
Philosophers Commentary by Dr. Cornel West, Ken Wilber – Dr. West and Ken Wilber discuss their thoughts and opinions of the film
Critics Commentary by Todd McCarthy, John Powers, David Thomson – Film Critics
Todd McCarthy, John Powers and David Thompson express their thoughts on the film
Revolutions Recalibrated – Explore the story before the revolution
Neo Realism: The Evolution of Bullet Time – See how the Bullet Time technique has evolved since the first film
CG Revolution – Go inside Zion and see how VFX were used in "The Siege" sequence
Super Big Mini Models – Take a look at how miniatures were used in the film
Double Agent Smith – Join the crew as they show you how they created multiple
Agent Smiths for the final fight
Mind Over Matter: The Physicality of The Matrix – Going into training and learn what the actors physical demands were for the film
Future Gamer: The Matrix Online – See how the Matrix story continues in the video game
Before the Revolution – Explore the story before the revolution
3-D Evolution – Scroll through Concept Art, Storyboards and more in this interactive feature
Owen's Army: The Australian Art Dept. – Take a look at how these amazing sets were constructed
2nd Unit: A World of Their Own – Spend some time with the 2nd Unit Crew
Bill Pope: Cinematographer of The Matrix – Bill Pope offers insights to the filming of the Trilogy
Masters of Light and Shadow – Meet the folks that light up the sets
Coat Check – Take a look at how this virtually stunning fight sequence was achieved
Upside-down Under- Join the stunt coordinators as they explain in detail what had to be done for this film
Fast Break – Go behind the scenes and look at how the Special Effects for the film was created
Exploding Man – Follow Leo Henry as he shows you some of his craft
Gun Club – Enter the armory and take a look at the guns that were used
The Extras of Club Hel – Meet the extras from Club Hel
Geography of Zion – Take a look at all the different parts that make up Zion
The Ships – Learn how the ships got their looks
Tour of the Neb – Join Owen Paterson taking a tour of the Nebuchadnezzar
Matrix TV – Meet the crew behind all the screen graphics
Logos Fight Expansion – Take a behind the scenes look at the only fight that does not take place in the Matrix
Dig This
The Siege Action Match
Anatomy of a Shot: Mifune's Last Stand
Building an APU
Product of Zion – Sit down with the cast as they discuss their characters and how they got their roles
Revolutionary Composition
The Glue – Meet the editing team and see how the film comes together
Dane Tracks – Hear from Sound Designer Dane Davis as he discusses his contribution to the film
Cause and Effects – Meet the VFX team and see what it took to complete all the shots in the film
Trailers
Disc #5 – The Animatrix
The Second Renaissance Part I Commentary by Mahiro Maeda
The Second Renaissance Part II Commentary by Mahiro Maeda
Program Commentary by Yoshiaki Kawajiri
World Record Commentary by Takeshi Koike
Scrolls to Screen: The History and Culture of Anime
Making Final Flight of the Osiris
Making The Second Renaissance Parts I & II
Making Kid's Story & A Detective Story
Making Program
Making World Record
Making Beyond
Making Matriculated
Disc 6 & 7 The Matrix Experience Bonus Discs
Return to Source: Philosophy & the Matrix (AKA. Brainiac's Revenge)
The Hard Problem: The Science Behind the Fiction
The Burly Man Chronicles
Pre-Production
Alameda Shoot
Australia Shoot
The Zion Archive – Photo galleries
The Rave Reel
The Matrix Online
2 Music Videos, Theatrical Trailers and TV Spots