Tony Scott To Direct Drug Smuggling Thriller 'Narco Sub' For Fox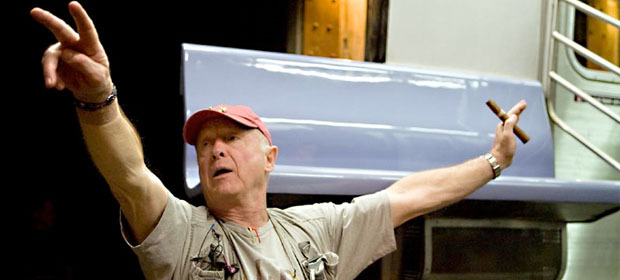 Well, it's not nearly as good as Peter Weir going back to Master and Commander, but at least someone at Fox is interested in making a nautical thriller. Kind of. Tony Scott has signed to work with Fox once again as producer and director on a drug-running sub thriller called — seriously, this part isn't a joke — Narco Sub. The title would seem to refer to crafts — once only semi-submersible but now fully submersible — that South American drug cartels sometimes use to smuggle cocaine into the United States. Colombian drug runners seem particularly fond of the little craft, which are adept at evading radar and sonar.
The script is by new hot screenwriter David Guggenheim, and the project overall is described as being reminiscent of films like Man on Fire and Crimson Tide.
Tony Scott has, of course, already made one film on a submarine, way back when his style didn't rely on an excess of frenetic, circular camera movement. That movie was the aforementioned Crimson Tide, released in 1995. He has also made quite a few films with significant action taking place within vehicles: Top Gun, Days of Thunder, The Taking of Pelham 1 2 3, and Unstoppable. He likes the sort of film that combines a bit of tech with a working class, regular guy angle. So we'll see what it is about the Narco Sub script, besides the obvious title element, that appeals. More important, how will he fly the camera in and out of one of these tiny little subs?
This one doesn't sound as if it will be quite the full-on nautical thriller that some naval story nerds (like me) might want. I wonder if this script might be based in part on the early August 2011 seizure of 7.5 tons of cocaine being smuggled through the Caribbean via narco-sub. Seems likely, but we don't have much info.
Regardless, Guggenheim, who was once an editor at US Weekly until he sold the script for what became the Denzel Washington movie Safe House (released next year) is turning into quite the desirable name as a screenwriter. (Without any of his features having been released yet, I might add.) You're going to keep seeing his name crop up in 2012. And Tony Scott's name is never out of headlines for long; he's got more films in development than we've got space to list.
Oh, and one other note: you may have read about the Nic Cage movie Medallion, directed by Simon West and also written by David Guggenheim. That is now called Stolen — it has Cage as a "former thief frantically searching for his missing daughter, who has been kidnapped and locked in the trunk of a taxi." [Variety]