'Red' Director Robert Schwentke To Direct 'The Lobotomist' Pilot For HBO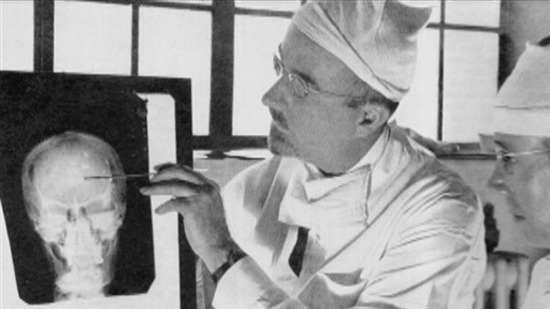 We may receive a commission on purchases made from links.
While working on Shutter Island, producer Brad Fischer, writer Laeta Kalogridis and star Leonardo DiCaprio were all taken with Jack El-Hai's book The Lobotomist: A Maverick Medical Genius and His Tragic Quest to Rid the World of Mental Illness. The tome is a history of Walter Freeman, the doctor who was the first proponent of the frontol lobotomy in the United States. He developed the trans-orbital lobotomy method, using a tool derived from a standard kitchen ice pick. (As seen in Brad Anderson's film Session 9.)
The Fischer/Kalogridis/DiCaprio trio were interested enough that they optioned the book and brought it to HBO as possible fodder for a series. Now a drama is in the works, called The Lobotomist, and Robert Schwentke (Red, The Astronaut's Wife, R.I.P.D.) will direct the pilot from a script by Daniel Thomsen.
Variety has the news, saying that the fate of the potential series is not yet set.
Walter Freeman performed his first pre-frontal lobotomy in 1936, but didn't develop the famous trans-orbital lobotomy technique until the mid-'40s. Variety's article specifies part of the thrust of the potential series,
However, when this maverick doctor is willing to go to any lengths to achieve his goals, his life careens out of control — from the highs of international recognition to the tabloids, with the history of mental health care, changed in his wake.
Here's the Amazon account of the book being used as the primary source for the pilot. I'd guess that My Lobotomy, a book written by one of Freeman's patients, might also end up being a source, at least unofficially.
The Lobotomist explores one of the darkest chapters of American medicine: the desperate attempt to treat the hundreds of thousands of psychiatric patients in need of help during the middle decades of the twentieth century. Into this crisis stepped Walter Freeman, M.D., who saw a solution in lobotomy, a brain operation intended to reduce the severity of psychotic symptoms. Although many patients did not benefit from the thousands of lobotomies Freeman performed, others believed their lobotomies changed them for the better. Drawing on a rich collection of documents Freeman left behind and interviews with Freeman's family, Jack El-Hai takes a penetrating look into the life of this complex scientific genius and traces the physician's fascinating life and work.
PBS has already done a documentary on Freeman; The non-fiction The Lobotomist is part of the American Experience series. It is also the source of this article's header image.