First Look: Keanu Reeves On The Set Of '47 Ronin'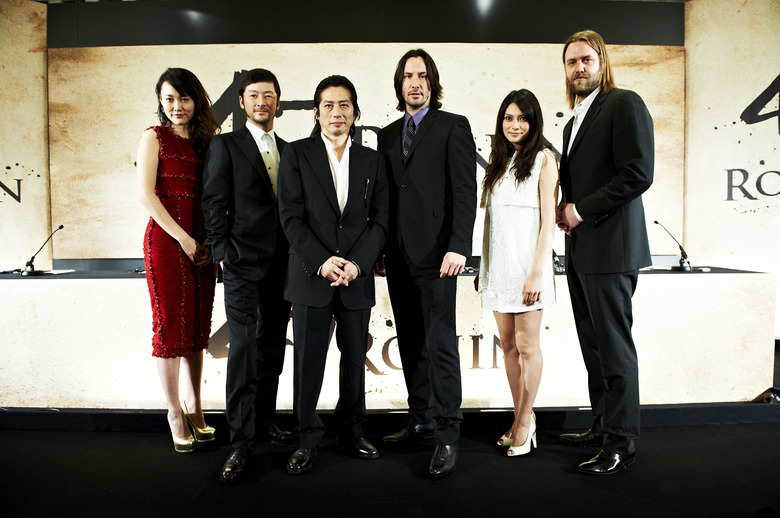 Pretty minor stuff here, but here's the first look at Keanu Reeves in costume for the Carl Erik Rinsch film 47 Ronin. The movie is a remake, in name at least, of a Japanese film from 1947, but what we've heard about the film so far suggests that Rinch is going for something a bit more his own than just a straight remake. The story has been around far longer than sixty-some years, so Rinsch has many previous versions to draw on, but also the leeway to give his own spin on the tale. (Which includes shooting this version in 3D.)
Rinsch is noted for being a Ridley Scott protege, and he was once attached to direct a film related to Alien way before that movie evolved into Prometheus, with Scott taking directorial duties. Rinsch was also set to direct Logan's Run before dropping off that project (making room for Nicolas Winding Refn) and to make 47 Ronin.
We don't have actual stills from the film yet, but after the break you'll find a shot of Reeves in character, and images of a couple other players in their film garb.
Earlier this year Reeves explained his vision of the film,
It's in 3D. It's kind of a western. I call it a story of revenge and impossible love. The samurai become ronin, outcast, and decide to enact revenge on the person who is responsible for the death of their lord. And I play an outsider, a kind of half-breed with a mysterious past named Kai, who's in love with the princess and she's in love with me, but we can't be together. But during this journey and revenge, things change.
Chris Morgan (Wanted) scripted, and this is how he described the script when Rinsch was set to direct:
It's a time in Japanese culture when it was all about [the] bushido [code] and honor, and putting internal things over external things -- swords that were made to be functional instead of ornamental, that kind of stuff," Morgan previously told MTV. "this turning point in the culture when that started to shift. Society started to be more about external kind of things. The story is about these samurai whose lord is killed in an unfair way.
And we've got this from an official press release about the movie.
Inspired by styles as diverse as Miyazaki and Hokusai, Rinsch will bring to life the stunning landscapes and enormous battles that will display the timeless Ronin story to global audiences in a way that's never been seen before.
47 Ronin also features Hiroyuki Sanada, Kô Shibasaki, Tadanobu Asano, Rinko Kikuchi, and Jin Akanishi. It is set for release on November 21, 2012.