'Journey 2: The Mysterious Island' International Trailer: Suddenly This Is A Very Serious Adventure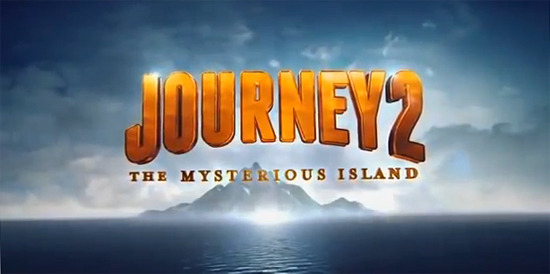 The first trailer for Journey 2: The Mysterious Island was all about fun family adventure. The film is the sequel to Journey to the Center of the Earth 3D, the film that was ahead of the recent wave of 3D releases, and as such got away with some pretty shoddy effects. This sequel is loosely based on Jules Verne's novel The Mysterious Island, and the original trailer highlighted a little bit of danger and a lot of wide-eyed adventure all brought to life with effects that are still pretty shoddy-looking. At least there are a few likable people in the cast: Dwayne 'The Rock' Johnson tags in to replace Brendan Fraser; Josh Hutcherson is the lead kid Sean, and Michael Caine plays Sean's long-lost explorer grandfather. Luis Guzman is the comic relief, and Vanessa Hudgens is a love interest for Sean.
This international trailer gets a lot more serious, but doesn't really improve the level of the effects. Which might not be a problem if the entire film wasn't predicated on the idea of selling viewers a lost, incredible fantasy world. Check it out below.
I do love that the island in the film is actually called 'Mysterious Island.' That's almost parody. I don't think the Verne book even called it that. And the Rock still looks like fun, but as for the rest of it? Maybe not so much.
Young adventurer Sean receives a coded distress signal from a mysterious island where no island should exist–a place of strange life forms, mountains of gold, deadly volcanoes, and more than one astonishing secret. Unable to stop him from going, Sean's new stepfather joins the quest. Together with a helicopter pilot and his beautiful, strong-willed daughter, they set out to find the island, rescue its lone inhabitant and escape before seismic shock waves force the island under the sea and bury its treasures forever.
Journey 2: The Mysterious Island opens on February 10, 2012.