New Image From 'John Carter' Shows A Giant Toothy Beast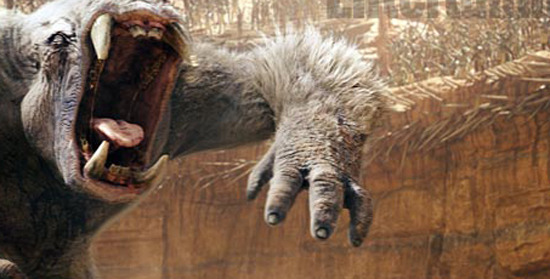 The summer preview issue of Entertainment Weekly has more gifts. Last night it was the first new pics from Ridley Scott's Prometheus that we've seen in months. Now it is a new image from Andrew Stanton's John Carter, which shows Taylor Kitsch as the title character facing off against off one of the film's six-limbed, giant-toothed beasts. Check it out in full below.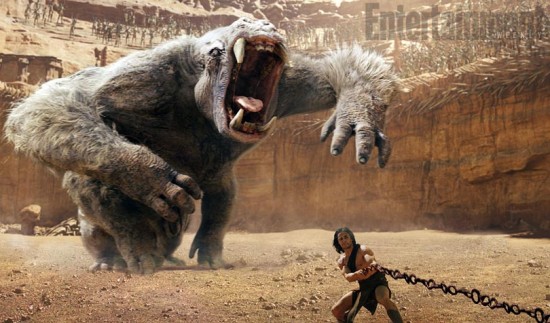 So, yeah, it's a little bit like something out of the Star Wars prequels — I could see a few lightsaber-wielding Jedi facing down that thing. We haven't seen much at all from this movie, and while the trailer left some people pretty cold, I think this is just the beginning of the wave of alien creatures that are going to be revealed from the film.
As EW says,
There are the four-armed green Tharks that Civil War vet John Carter (Taylor Kitsch) first encounters after he's mysteriously transported to the war-torn surface of Mars. There's the many-legged amphibi-dog named Woola that becomes Carter's loyal companion. And then there are one of the most intriguing and fearsome creatures in the series: the great White Apes.
We've seen hints of the Tharks, and this is one of the White Apes. Andrew Stanton explains the change from the book version to what we see here, which isn't introduced until relatively late in the movie:
No, they're sort of an oversized gorilla in the books, and they're kind of ubiquitous. They're littered everywhere through at least the first several novels. They were always cool, just from a visceral standpoint, [but] they don't really have a narrative function in the first book. So what we did is we made the White Apes a formidable creature that you kind of hear about throughout the movie, but you never really witness. There's a subtle sense of anticipation for what these things might be like. Then Michael Kutsche — who did a lot of the designs on [the Johnny Depp movie] Alice in Wonderland – came up with this design on his own, for just their scale. He made them nocturnal, almost like moles — they stopped using their eyes, and just had a heightened sense of smell. We just love that. We needed a scene where Carter was going have to get out of his execution sentence in order to move the story forward, and we thought what better than having to go up against this formidable creature?
John Carter stars Taylor Kitsch, Lynn Collins, Samantha Morton, Mark Strong, Ciaran Hinds, Dominic West, James Purefoy, Daryl Sabara, Polly Walker, Bryan Cranston, Thomas Hayden Church, and Willem Dafoe. It opens on March 9th.
From Academy Award(R)-winning filmmaker Andrew Stanton comes "John Carter"–a sweeping action-adventure set on the mysterious and exotic planet of Barsoom (Mars). "John Carter" is based on a classic novel by Edgar Rice Burroughs, whose highly imaginative adventures served as inspiration for many filmmakers, both past and present. The film tells the story of war-weary, former military captain John Carter (Taylor Kitsch), who is inexplicably transported to Mars where he becomes reluctantly embroiled in a conflict of epic proportions amongst the inhabitants of the planet, including Tars Tarkas (Willem Dafoe) and the captivating Princess Dejah Thoris (Lynn Collins). In a world on the brink of collapse, Carter rediscovers his humanity when he realizes that the survival of Barsoom and its people rests in his hands.