'The Muppets' – What Did You Think?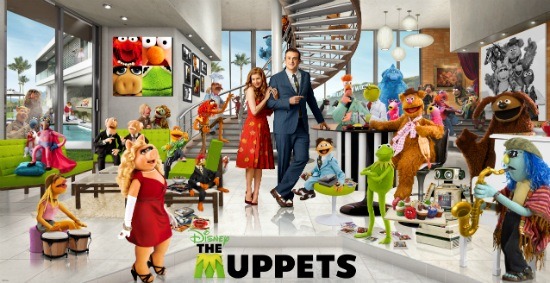 After a long promotional runup that included a never-ending string of parody trailers, photo shoots and gleeful audio experiments, The Muppets is finally in theaters. Jason Segel's loving ode to Jim Henson's puppet troupe combines some winking modern showmanship with a whole lot of love for the Muppets and what they have always represented in pop culture. Because the Muppets mean a lot to many of our readers, it is possible that the film has a difficult standard to live up to.
So the question is: did director James Bobin, co-writers Segel and Nicholas Stoller, songwriter Bret McKenzie, co-stars Amy Adams, Jack Black, Chris Cooper and all the Muppet puppeteers manage to craft a modern Muppet vision that jibes with the classic image of the characters? Tell us what you thought in the comments after the jump. As always, spoilers are fully cleared to go in this discussion.
I'm pretty much fully on board with Angie's take on the movie. I could have used a bit more of the pure, unadulterated weirdness that always crept into the show, but this movie is so sweet and sincere that I can't really knock it. (And, no, the musical numbers, even Chris Cooper's out of the blue rap number, don't count as weirdness. Numbers like the song and dance stuff in this movie were always the baseline for The Muppet Show.) And I just loved Animal's little anger-management subplot. I wasn't a Muppet devotee as a kid (I liked them, but didn't live and die, Walter-style, by the characters) but Animal's storyline here definitely got to me in the way that Segel, Bobin and Stoller intended.
So what did you think? Does The Muppets hit the right notes, or did the attempt to blend nostalgia and forward thinking take the film off track?