Watch James Cameron Talk About The 3D Conversion Of 'Titanic'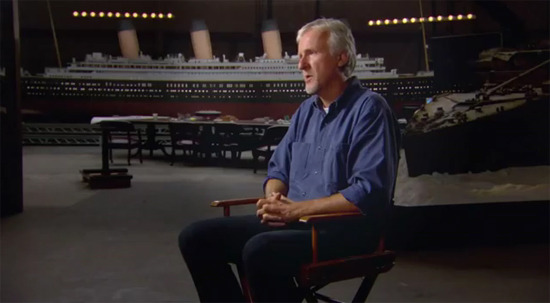 Here's another one of those things that would probably be a lot more meaningful in 3D. It is a featurette in which James Cameron first explains (with as much humility as he can muster) the cultural impact of Titanic, then describes some of the process of converting the film into 3D for re-release in 2012. I'd like a lot more of the technical talk and less about how wonderful the movie is, but this will probably have to do until the special edition 3D Blu-ray arrives loaded with bells and whistles.
Watch the featurette below.
Setting aside Cameron's softly-voiced hyperbole about Titanic, I can't watch footage from the film and not be a bit gobsmacked by the wealth of detail he built into the movie. Years ago I worked with a guy who was a set dresser on the film, and he'd talk about the process of setting up the massive dining room setups and then watching them washed into oblivion by tons of water, take after take. There's room for a great new 'making of' feature showing that original process in action and then moving forward to the 3D conversion of those scenes.
Fox and Paramount will re-release Titanic in 3D on April 6 2012. Watch the re-release trailer here.