VOTD: 'Drive Thru,' A Parody Of Nicolas Winding Refn's 'Drive'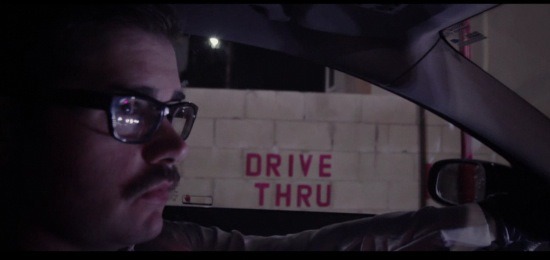 You want me to pick you up something from the drive-thru, you give me a time and a place. I give you a five minute window. Anything you want, I'll order it and get it to you in about five minutes no matter what. But I don't go inside the restaurant. I don't do carry out. I just drive thru.
If you've seen Nicolas Winding Refn's Drive (and if you haven't, what are you waiting for?!?) the above quote will make much more sense. It's Ryan Gosling's character's mantra adapted for fast food. That also happens to be the aim of the latest Funny or Die video Drive Thru. It takes the visuals, sounds and attitude of Drive and folds it into a kind of unclear, but still hilarious story of a man who picks up drive thru only to mistakenly come in possession a bag of burgers that don't belong to him. You've gotta check it out.
Thanks to Funny or Die (and First Showing for the heads up) for this video.
For fans of Drive, there's so much to enjoy about this video, particularly because every single shot, line of dialogue and even camera movement is taken from Winding Refn's film. The golden arches on this character jacket is a nice touch too. I only wish they used "A Real Hero" by College, the unofficial theme song of the movie. Still, I literally laughed out loud several times during this, especially the line about the Hamburglar.
Drive Thru was directed by Matthew Michaud and written by and stars Alex Blagg.
And if you're a Drive fan, check out this new piece of Drive artwork that goes on sale at Gallery 1988 in Los Angeles this Friday by Jeff Boyes.