'The Woman In Black' Short Trailer: A Ghost Story, Abbreviated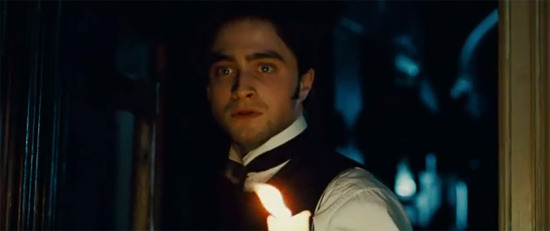 We've seen a couple trailers for The Woman in Black, the first film to feature Daniel Radcliffe in the post-Harry Potter stage of his career. But this new trailer, which clocks in at a very economical sixty seconds, is the best yet. It is just that economy that makes it work, as we're given just enough plot setup and hints of thrills and ghostly horror to let the film start to get its hooks in. Check it out below.
The story(scripted by Jane Goldman (Stardust, Kick-Ass, X-Men: First Class) based on the ghost story novel by Susan Hill) seems like pretty simple stuff, but that's not a problem for a good supernatural thriller. I quite like the look of the film, and while I expect it will be much slower-paced than this trailer makes it out to be, the general tone seems to be in the right place.
While taking care of a deceased client's estate, a young lawyer encounters a mysterious woman dressed in black and uncovers a tragic secret.
CBS Films opens The Woman in Black on February 3, 2012.