Four Graphic 'Ghost Rider: Spirit Of Vengeance' Posters Bring The Bullets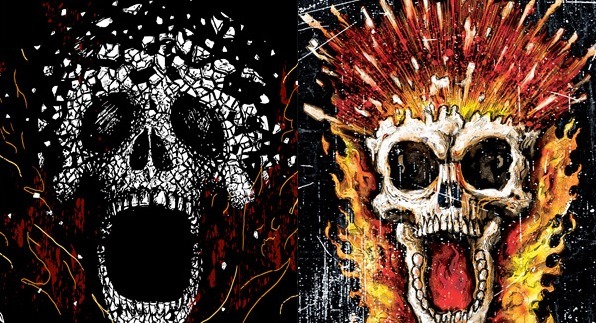 From everything we've seen of Neveldine/Taylor's Ghost Rider: Spirit of Vengeance, it's obviously going to be extremely different. Different from the first film, different from other superhero movies and different from the previous films of its crazy directing duo. Sony has gone "different" with the marketing, too, shying away from traditional character one sheets in favor of a few bad ass graphic representations of Johnny Blaze's alter-ego, Ghost Rider. You might not see these at a theater, but you can see them here. Check them out after the jump.
Thanks to JoBlo and Superhero Hype for the respective images. We put two of them in Superhero Bits a few days back but figured, with the other two, they were worth their own post. Head to each site for high res images.
Here's the official plot synopsis of Ghost Rider: Spirit of Vengeance.
Nicolas Cage returns as Johnny Blaze in Columbia Pictures' and Hyde Park Entertainment's Ghost Rider: Spirit of Vengeance. In the successor to the worldwide hit Ghost Rider, Johnny – still struggling with his curse as the devil's bounty hunter – is hiding out in a remote part of Eastern Europe when he is recruited by a secret sect of the church to save a young boy (Fergus Riordan) from the devil (Ciaran Hinds). At first, Johnny is reluctant to embrace the power of the Ghost Rider, but it is the only way to protect the boy – and possibly rid himself of his curse forever.
Ghost Rider: Spirit of Vengeance hits theaters February 17, 2012. Are you anticipating this movie?