Martin Scorsese Set For 'The Snowman'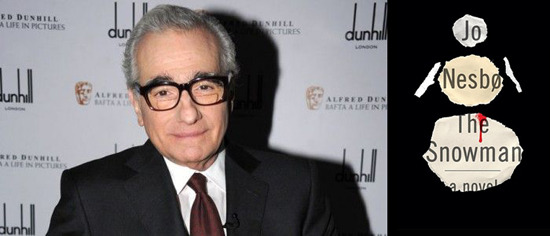 Less than a month ago Martin Scorsese started to show public interest in directing a film based on Jo Nesbø's thriller novel The Snowman. (He has been circling the project for longer than that.) The book is one of nine Nesbø novels featuring Harry Hole, a non-traditional, alcoholic, loose-cannon police detective. In The Snowman, "a son finds his mother's pink scarf wrapped around the neck of a ominous looking snowman. Hole realizes she is the latest victim of a serial killer."
Scorsese's interest in the film is good news for those who like big-budget adaptations of brutal police thrillers, and not so good news for anyone who hoped that, after Hugo, Scorsese might finally make his long-planned Jesuit drama Silence or the mob movie The Irishman.
Now we've got confirmation that The Snowman will indeed be directed by Scorsese.
THR says that Nesbø and production company Working Title have confirmed that Scorsese will direct the film. Part of the final deal was approval from Nesbø, who also agreed not to insist that the film be shot in the Norwegian city of Oslo, where the book is set. (Though the film could end up being shot there; it just isn't a stipulation of the deal that it must be.)Matthew Michael Carnahan (World War Z) is writing. We don't know what changes will be made to the story, and we don't know if this will definitely be Scorsese's next film, though that's how it looks right now.
Here's the book description:
Oslo in November. The first snow of the season has fallen. A boy named Jonas wakes in the night to find his mother gone. Out his window, in the cold moonlight, he sees the snowman that inexplicably appeared in the yard earlier in the day. Around its neck is his mother's pink scarf.
Hole suspects a link between a menacing letter he's received and the disappearance of Jonas's mother—and of perhaps a dozen other women, all of whom went missing on the day of a first snowfall. As his investigation deepens, something else emerges: he is becoming a pawn in an increasingly terrifying game whose rules are devised—and constantly revised—by the killer.