'The Darkest Hour' International Trailer And Featurette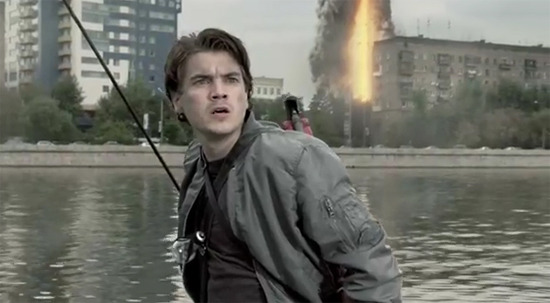 I don't know what to make of The Darkest Hour, the film that pits Emile Hirsch, Olivia Thirlby, Max Mingella, Joel Kinnaman and Racheal Taylor against inter-dimensional aliens who seem to disintegrate earth-dwelling beings as the aliens try to steal Earth's energy.
I love the idea of an original horror/sci-fi story that tries to create a pretty unique adversary. But what I've seen from the film so far hasn't entirely sold me on this particular approach. Check out a new featurette below from the Singapore arm of 20th Century Fox, and also have a look at a 'mood piece' from the same office.Here's the featurette:
Or, if you want to see a lot of the same footage with all the talking actors replaced by tunes from Magnetic Man and Justice, here's an alternate trailer. Or a 'mood piece' as Fox Singapore calls it.
The Darkest Hour is directed by art department veteran Chris Gorak (Fight Club, The Man Who Wasn't There, Minority Report) and will open on December 23.
[via FirstShowing]