'The Grey' Sizzle Reel: Liam Neeson Faces Wolves, And His Demons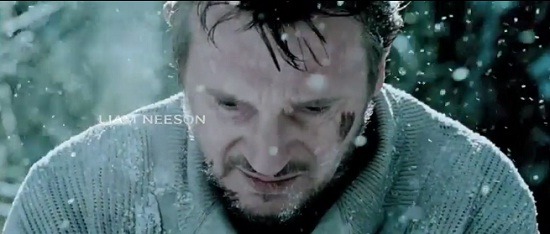 The first teaser trailer for Joe Carnahan's The Grey got us pretty pumped to see the movie, because it featured Liam Neeson taping broken bottles to his hands in preparation to fight a wolf. With that image in mind it's pretty easy to forget that the rest of the first teaser trailer is a really moody, low-key thing that depicts Neeson as one of several guys lost in the wilderness after a plane crash.
Now here's a sizzle reel for the movie (this isn't a final trailer, though we might see a trailer that looks a lot like this one) that really promotes the idea of The Grey as a brooding adventure story. At least until the wolves attack, at least, at which point all bets are off. Check out the reel below.
Beware that, as a sizzle reel rather than a trailer, this might show more of the movie than you want to see.
[Removed at the request of Open Road Films, the distributor of The Grey. Hopefully we'll have a real trailer to share soon.]
I love the discordant, super-tense score; if this is Marc Streitenfeld's music for the film I'll be excited, though I feel like this is a piece of music I've heard before. And the first-person narration via intertitles is pretty great, too. Seen in tiny shots like this I'm worried about whether the wolves will really work, but this hasn't dimmed my interest in the movie. Liam Neeson would have his inner turmoil externalized as a pack of super-intelligent wolves, wouldn't he?
The Grey opens on January 27 2012.
A group of oil-rig roughnecks are left stranded on the sub-arctic tundra after their plane experiences a complete mechanical failure and crashes into the remote Alaskan wilderness. The survivors, battling mortal injuries, biting cold and ravenous hunger, are relentlessly hunted and pursued by a vicious pack of rogue wolves.
[Boxofficebuz via FirstShowing]