New Images: Batman And Bane From 'The Dark Knight Rises'

We don't have huge images to share, but Empire finally revealed both the Batman (Christian Bale) and Bane (Tom Hardy) covers the magazine has been teasing for its The Dark Knight Rises cover story. We've seen so many high-res set pics of the characters that some new official images don't feel like great big reveals, but at least we get to see some new tech. What is that thing Batman is using, anyway? Part of the bat-CSI kit?
Hit the jump for a slightly bigger version.
Click to enlarge: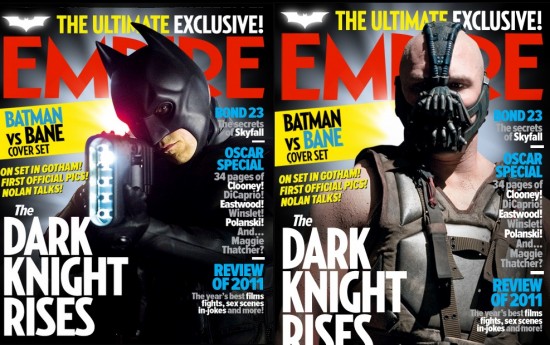 The Dark Knight Rises is the third and final Batman film from Christopher Nolan. It is co-written by Christopher & Jonathan Nolan, with story credit to Christopher Nolan and David Goyer. The cast features Christian Bale, Michael Caine, Gary Oldman, Morgan Freeman, Anne Hathaway, Tom Hardy, Marion Cotillard, Joseph Gordon-Levitt, Juno Temple, Josh Pence, Liam Neeson, and Nestor Carbonell. The Dark Knight Rises hits theaters on July 20th, 2012. [Empire]