'Arrested Development' Is Coming To Netflix In 2013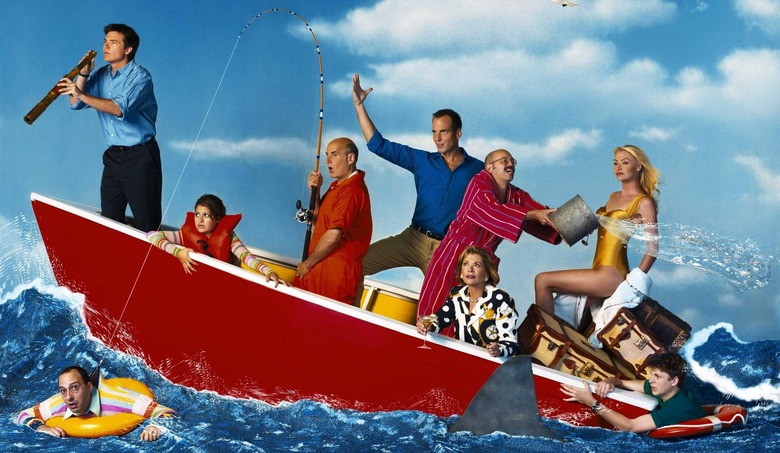 That sound you're hearing is customers coming back to Netflix for one of the best comedies of all time. The online streaming and rental company has closed a deal to exclusively air new episodes of Arrested Developement in as early as 2013. These are most likely the episodes series creator Mitch Hurwitz mentioned last month as a lead in to a long-rumored feature film. There's more after the jump.
Variety exclusively broke unbelievably awesome news. There's no word on how many episodes will air or which cast members will or won't return (several, such as Will Arnett, are contracted on other shows) but 20th Century Fox Television and Imagine Television confirmed they hope the episodes will begin airing in early 2013.
Two of the show's producers, Brian Grazer and Ron Howard (also the show's narrator) released the following statement:
Of all the projects we've been involved with over the years, we probably get more questions about Mitch Hurtwitz's brilliant 'Arrested Development' than any other– everyone, ourselves included, seems to feel like the Bluths left the party a bit too soon. Bringing a series back from cancellation almost never happens, but then, 'Arrested' always was about as unconventional as they get, so it seems totally appropriate that this show that broke the mold is smashing it to pieces once again
Read the full press release here.
Last month in New York, Hurwitz talked about this possibly happening when questioned about a possible Arrested Development movie. Cast members have been asked about the movie ever since the series was cancelled in 2006 and rumor was Hurwitz was always working on it. Then, in October, he said he had an idea but in order to not waste the movie's time catching the audience up with where the characters are, they'd air a new season of the show first. These are most likely those episodes.
I'm of the mindset that Arrested Development stands besides shows like I Love Lucy, The Honeymooners, Cheers, the British Office and Seinfeld as one of the funniest, most influential comedies of all time and the fact that it's coming back, even just briefly, is a testament to its rabid fan base and their ability to shower the show with love years after it stopped airing.
Do you think Netflix (which reportedly beat out Showtime for the rights) is the right place for the return of Arrested Development?