'Gone' Trailer – Amanda Seyfried Hunts A Possibly Imaginary Serial Killer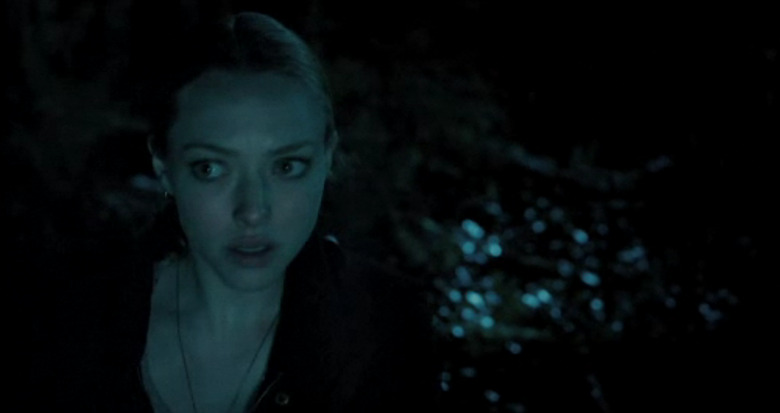 The first trailer has dropped for Gone, Heitor Dhalia's thriller about a young woman named Jill (Amanda Seyfried) who comes home to find that her sister Molly (Emily Wickersham) has mysteriously vanished. Jill is sure Molly's been kidnapped by the same serial killer Jill escaped from two years prior, but the police aren't convinced — so Jill takes matters into her own hands to rescue her sister.
It's a standard-issue thriller premise, and there's not much about the trailer that really sets Gone apart from dozens of similar movies. (The utterly forgettable, SEO-unfriendly title doesn't help matters, either.) Still, there's always the possibility it'll wind up a satisfying if not especially imaginative take on the genre, and Seyfried usually makes for a compelling lead. Watch the trailer after the jump.
[via Collider]
What's there to say, really? The trailer is neither so awful as to be worthy of ridicule nor so good as to be genuinely intriguing. Same goes for the cast (aside from Seyfried), which consists of Wes Bentley, Jennifer Carpenter, and Sebastian Stan. And screenwriter Allison Burnett, whose previous credits include Autumn in New York, Fame, and Underworld Awakening. Maybe it'll wind up being greater than the sum of its parts, but so far the parts don't look terribly promising.
Also not very encouraging is Gone's release date, which falls on February 24, 2012. For reference, this past February saw the releases of I Am Number Four, Unknown, and The Roommate.
Synopsis:
Jill Parrish comes home from working the night shift to discover that her sister Molly has disappeared. Jill is convinced that Molly has been abducted by the same serial killer from whom Jill escaped the year before and that by sundown Molly will be dead. The police think Jill is crazy, so she sets out alone to rescue her. Is Jill mentally ill, merely chasing shadows, or will she find Molly before it's too late?