Scrat Stumps For 'Ice Age' Once More In 'Scrat's Continental Crack-Up Part 2'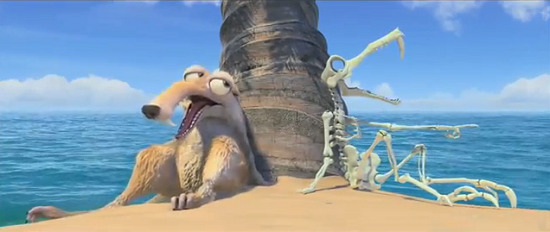 Since the run-up to the release of Blue Sky Studios' Ice Age in 2002, the best spokesman — spokesanimal? — for the film series has been a creature that can barely speak. The acorn-obsessed Scrat, a sabre-toothed squirrel, has starred in trailers and shorts and is one of the most consistently entertaining parts of the actual films. With the latest film in the series, Ice Age: Continental Drift, hitting theaters in July 2012, Fox and Blue Sky are way ahead of the curve in getting the word out. The first part of the short Scrat's Continental Crack-Up showed up way back in January of this year, and now we've got the conclusion. Check it out below.
Here's the first part of Scrat's Contintental Crack-Up, as a refresher.
And here's part two, new today:
Check it out in HD at Apple.
Scrat's nutty pursuit of the cursed acorn, which he's been after since the dawn of time, has world-changing consequences – a continental cataclysm that triggers the greatest adventure of all for Manny, Diego and Sid. In the wake of these upheavals, Sid reunites with his cantankerous Granny, and the herd encounters a ragtag menagerie of seafaring pirates determined to stop them from returning home.