The Gang's All Here In Two New 'Avengers' Banners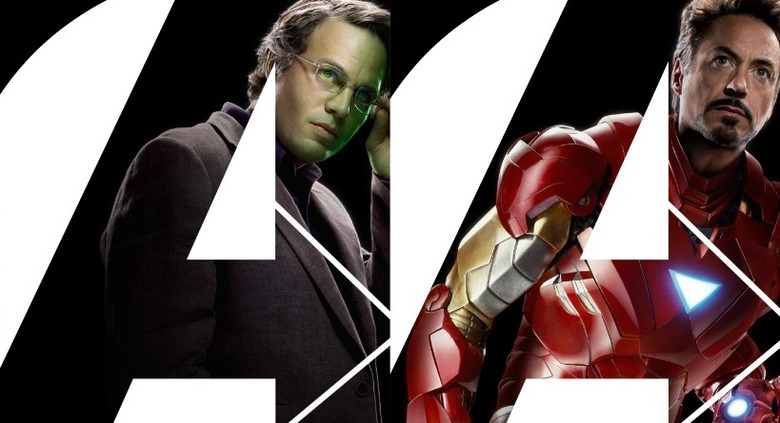 The holidays is a huge time not only for major new releases, but for major movie marketing. In the past few days alone we've seen trailers for The Hunger Games, Brave and rumor has it we'll see new stuff from The Dark Knight Rises and The Hobbit before the year is out. On the print side, Marvel has revealed two very cool banners for their May 4 release, The Avengers. The first features the A-Team of Chris Evans as Captain America, Mark Ruffalo as Bruce Banner, Robert Downey Jr. as Iron Man and Chris Hemsworth as Thor. The second features Samuel L. Jackson as Nick Fury, Tom Hiddleston as Loki, Jeremy Renner as Hawkeye and Scarlett Johannson as Black Widow. Check out the full images after the jump.
Thanks to Yahoo Movies and Moviefone for these banners. Click on each to blow it up.
These banners are certainly eye-catching but one is obviously cooler than the other. That's not a knock on Nick Fury, Loki, Hawkeye or Black Widow – I'm sure they all will kick major ass in The Avengers, but none of them have had their own movies. That Cap, Hulk, Iron Man and Thor banner is all sorts of cool.
Here's hoping these banners means we're going to get a new trailer soon. When do you think that might happen?
Joss Whedon's The Avengers hits theaters May 4, 2012. This is the basic plot description. Click here to read a TON of information about the movie.
When an unexpected enemy emerges that threatens global safety and security, Nick Fury, Director of the international peacekeeping agency known as S.H.I.E.L.D., finds himself in need of a team to pull the world back from the brink of disaster. Spanning the globe, a daring recruitment effort begins.