TV Bits: Man Claims Old Episode Of 'Fraggle Rock' Contains Racial Slur, Plus: 'The Munsters', 'South Park', 'Alcatraz', 'How I Met Your Mother', 'Happy Endings'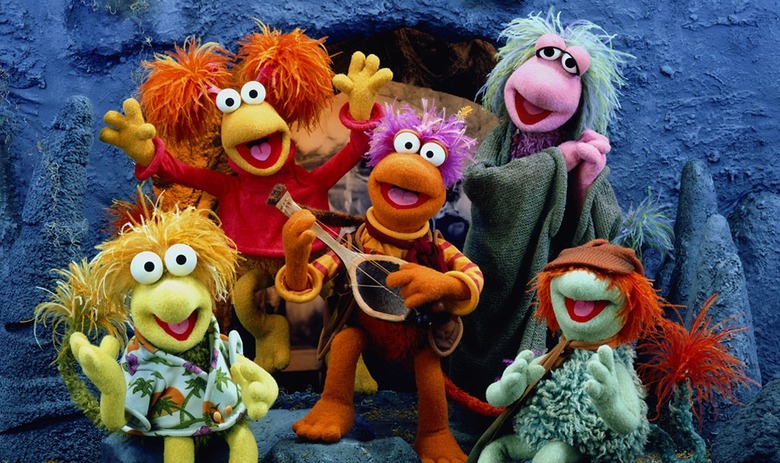 We've got a lot of the usual news bits about casting, renewals, and so on in today's TV Bits, but first, don't you want to read about a possible racial slur in a decades-old episode of Fraggle Rock?
After the jump:
A Texas man reports an offensive slur in a 1984 episode of Fraggle Rock
Fox's J.J. Abrams-produced Alcatraz changes showrunners
NBC picks up Bryan Fuller's The Munsters pilot
Comedy Central renews South Park for like the next million* seasons
Becki Newton heads to CBS' How I Met Your Mother
Lone Star actor James Wolk lands on ABC's Happy Endings
* And by "million," I mean "five."
Offensive bits in old family entertainments are hardly unheard of; just ask Disney about Song of the South sometime. But in this instance, The Hub Network (which airs the show) had a very reasonable explanation for what White thought he heard.
According to a copy of the script sent to The CW33, which broke the story, the character accused of racial insensitivity is actually saying "Gee, Gobo" — Gobo being the name of the main character. The Jim Henson Company has backed up The Hub's explanation. Hey, absurd controversies over non-issues in children's entertainment aren't exactly unheard of either.
The Hub has since edited Gobo's name out of the line in an effort to avoid similar incidents in the future, but to White, that's just further confirmation that he was in the right. "Why would you edit, if it`s a mistake?" he asked. "Why are you going to edit it out? Are you hearing the same thing?"
Listen to the clip below and decide for yourself:
[via The Daily What]
Despite promising early reviews, and despite the fact that it won't actually premiere until early 2012, Fox's Alcatraz has already run into some creative troubles. Co-creator Elizabeth Sarnoff has stepped down as showrunner over "creative differences," to be replaced by feature writer Daniel Pyne (Fracture) and Jennifer Johnson, who was promoted to co-showrunner (with Sarnoff) earlier this fall.
The staff shakeup was part of the reason that the network put new episodes of Alcatraz on hold earlier this month while it went back to do reshoots. The series is not filming at the moment, though the crew is gearing up for new episodes. [Deadline]
Last night's episode of South Park marked the 15th season finale for the show, but fans needn't fret — it'll be back in full force again next year, and the year after that, and the year after that, all the way through 2016. Comedy Central has just renewed the irreverent animated series through its 20th season, with creators Trey Parker and Matt Stone on board to continue writing, directing, and editing each episode.
"Comedy Central has been our home for 15 years and we love working there," said Parker and Stone. "South Park is a blast and we can't wait to make more." [Variety]
NBC has just picked up the pilot for The Munsters, a "revamp" of the '60s monster show that reimagines the premise as "a visually spectacular one-hour drama." Like many of you, I tend to be wary of remakes in general, but there's a reason I'm actually on board with this one: Bryan Fuller. As the creator of Dead Like Me, Wonderfalls, and Pushing Daisies, Fuller has the perfect off-center sensibility for bringing the weird, wonderful Munsters back to life.
The Munsters is one of two projects Fuller's working on with the network; Fuller's Hannibal Lecter drama Hannibal also recently landed at NBC. [The Wrap]
Over the past six and a half seasons, CBS' How I Met Your Mother has seen everyone from Britney Spears to Kal Penn attempt (and mostly fail) to woo the characters at various points. Now Ugly Betty actress Becki Newton, who recently starred in the short-lived NBC series Love Bites, will be the latest to try and get in with the close-knit group.
Netwon has signed on for a recurring part as Quinn, a love interest for Neil Patrick Harris' Barney Stinson. Seeing as the Barney/Robin matchup is getting more inevitable by the episode, this seems like a pretty thankless role. Still, Newton's a talented comedic actress, so maybe she'll find some way to make it worth our while and hers. (Besides her paycheck, that is.) [Cinema Blend]
Lone Star may have been cancelled after just two episodes, but happily, it seems we haven't seen the last of star James Wolk. Wolk has landed a multi-episode arc on the ABC sitcom Happy Endings, in which he'll play an ex-boyfriend of Max's (Adam Pally) who returns to rekindle their former romance.
The announcement comes just one week after news broke that another character on the series, Casey Wilson's Penny, would also be getting a guest-star love interest in the form of Party Down star Ryan Hansen. (This after Penny's mom was recently played by Party Down's Megan Mullally.) Now will you guys check out this show? It's really funny, I promise. [Cinema Blend]