Ricky Gervais Invited To Host Golden Globes Once More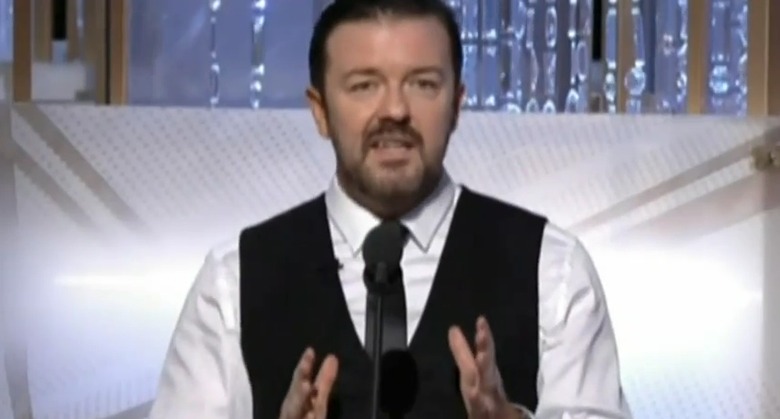 Few awards hosting appearances have been as divisive as Ricky Gervais' stint on the last Golden Globes. That gig kicked off with a detailed evisceration of Charlie Sheen before taking time to poke ugly/accurate fun at many celebs nominated for awards, and at the Globes themselves. The fallout was quick, with then-president of the Hollywood Foreign Press Association Philip Berk saying Gervais "definitely crossed the line. And some of the things were totally unacceptable. But that's Ricky."
Now after a long period of speculation the HFPA — a group of professionals, it must be noted, that is regularly considered to be generally useless and self-serving at best — has voted to invite Gervais back to host once more.
Variety says that Globes broadcaster NBC wanted Gervais to return. That's likely because there is a healthy audience for jokes aimed at celebrities in their moment of greatest pomposity, with the Globes arguably being that moment each year. (Others might say the Globes are really just a good chance for all involved to get dressed up and drunk and have a good time at parties. I can see that argument being valid, too.)
But the HFPA membership was not unanimous in welcoming the return of Gervais, saying,
While many welcome Gervais's return, not everyone is happy with the decision because last year his blunt one-liners targeting big-name celebrities caused anger and resentment in some quarters. After the show Gervais dismissed the possibility of coming back for a third time, but he gradually warmed to the idea and last month met with HFPA President Dr. Aida Takla-O'Reilly in Paris to discuss it.