Fox Planning Sneak Previews Of Cameron Crowe's 'We Bought A Zoo' On Thanksgiving Weekend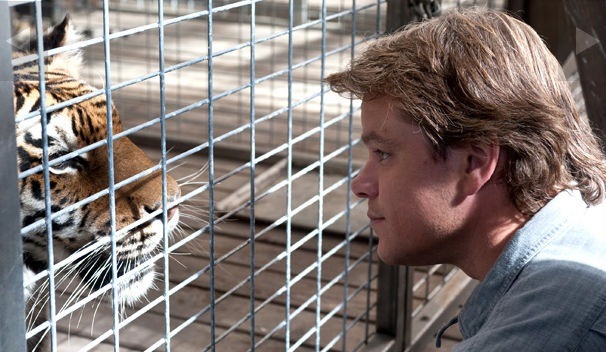 We've already expressed our eagerness to check out Cameron Crowe's We Bought a Zoo, and it seems Fox is equally excited to show it to us. The studio has teamed up with social media service TOUT to offer sneak preview screenings of the drama on Saturday, November 26, four weeks before its official release date of December 23. And as if the mere fact of getting to see Crowe's latest in advance weren't motivation enough, attendees will also have the opportunity to enter a contest for a trip to San Diego by posting reviews of the film.
Based on a memoir by Benjamin Mee, We Bought a Zoo stars Matt Damon as a single dad who moves his family to a dilapidated zoo. Scarlett Johansson, Thomas Haden Church, Elle Fanning, and Patrick Fugit also appear. More details after the jump.
The sneaks are part of a social media campaign that includes a "TOUT Takeover," in which audience members are encouraged to upload short reviews to the social video site for a chance to win a vacation for four to the San Diego Zoo's "Ultimate Zoo Experience." In addition, TOUT and Fox will host a live chat with Crowe following the showings, and are planning tie-ins with Twitter and Facebook.
The screenings come extremely early even by sneak preview standards, which are usually scheduled for about a week before the formal opening date. However, in this case the studio was motivated by "exceptional responses across wide-ranging demographics" in test screenings to try and generate buzz in advance of the movie's release.
"Once in a while, we're lucky enough to have a picture to which audiences of all kinds and all ages respond so strongly, that it demands a big and unexpected event," said Fox president and chief marketing officer Oren Aviv. "We Bought a Zoo is that kind of picture — and Thanksgiving is a great time to share it via this special very early preview."  Crowe expressed his approval of the studio's plan as well. "Holding previews so far ahead of our opening is a bold move – but that's one of the many reasons I like it," he said.