'Star Trek 2' To Begin Filming January 2012, Probably Won't Open Until Summer 2013 Or Later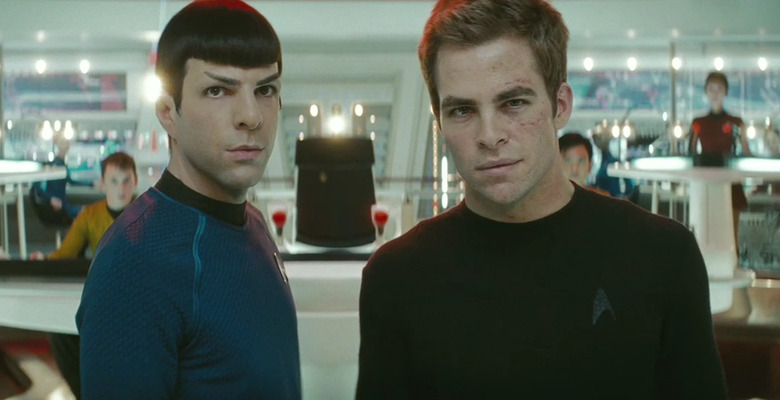 Development on Star Trek 2 (which, yes we know won't actually be titled Star Trek 2, but until they come up with a better title that's what we're calling it) got off to a slow start, but in the last several months the project has finally begun picking up steam. Over two years after the release of J.J. Abrams' first Star Trek film, the production is now gearing up for an early 2012 start. Though an exact release date has yet to be announced, it's likely that the sequel will hit theaters summer 2013 or later. More details after the jump.
The site also notes that though much of the special effects won't be done til post, Industrial Light & Magic have already begun working on certain special effects that don't require a filmed component. Meanwhile, the location scouting that started last month continues, with the team eyeing Hawaii as a potential site for scenes set on a "jungle planet." In addition, an unnamed source hints that one Los Angeles museum could be standing in for "a famous Star Trek location."
Things are looking good on the storytelling front as well. Abrams has been saying for some time that he wanted to get the story nailed down before turning his attention to locations, wardrobe, special effects, etc. And indeed, writer Roberto Orci confirms that the script "has been done for a while," with Orci, Alex Kurtzman, and Damon Lindelof hard at work on the third draft. At this point, it sounds like they're really just fine-tuning, rather than introducing any major changes — TrekMovie says one of their goals in this round of rewrites is to ensure the project stays within budget. As well as, obviously, adding some polish. "[R]ewriting is a good thing which normally makes the script better," said Orci. "We like to keep pushing the script, even if no one gives us notes."
Details on the actual plot of Star Trek 2 are still few and far in between, though we're sure to learn slightly more as production continues. All of the core cast members from the 2009 film are set to return, and casting has started for some new roles; earlier this month, Benicio del Toro was announced as a possibility to co-star as the villain.