'The Sitter' Red-Band Trailer #2: Less Sex, More Mayhem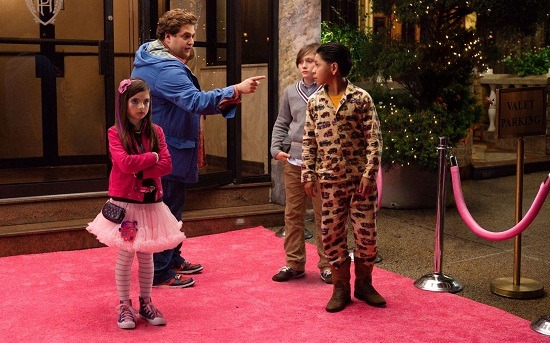 The Sitter is David Gordon Green's film that is being called an R-rated Adventures in Babysitting, and this is the second red-band trailer we've seen for the movie. This one has a little less sex and a lot more general mayhem as Jonah Hill plays a young jerkwad who takes a babysitting job and then drags the kids around Manhattan with him as he attempts to get laid. Check out the trailer below, if you can do so without fear that it will make you too familiar with many of the movie's jokes. (There's always the all-ages trailer if you want something less revealing.)
This trailer makes Hill's character look less sympathetic. The first red-band shows him to be a pretty pathetic guy who starts jumping through hoops in order to have sex with a girl who has been stringing him along, but this gets rid most of that setup. We just see Hill as an a**hole, and while that makes The Sitter look like an attempt to mine some familiar comic material, it doesn't make for something that looks very appealing to me. Your mileage may vary. And there is always the attraction of Sam Rockwell and J.B. Smoove as exaggerated bad-guy drug dealers.
When the world's most irresponsible babysitter takes three of the world's worst kids on an unforgettable overnight adventure through the streets of New York City, it's anyone's guess who's going to make it home in one piece. The Sitter is a new level of twisted and debauched hilarity from the director of Pineapple Express, starring Jonah Hill.
You can get an HD version at IGN, which also has some embedded flash 'board game.' Beware the inability to turn off the volume on that game, though.
The Sitter was originally a summer release, but will now open on December 9.