First Look: Olivia Wilde And Hugh Jackman In 'Butter'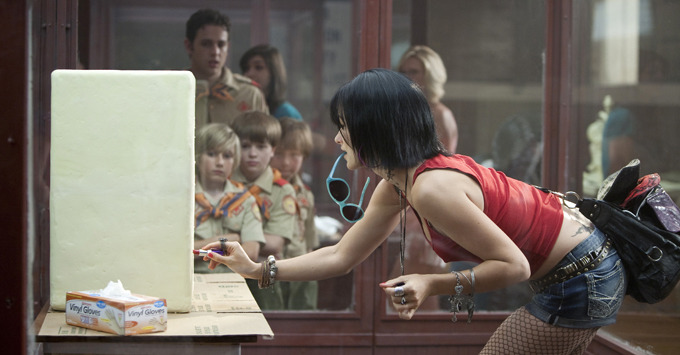 If Jim Field Smith's politically-tinged satire Butter had enjoyed a really strong showing when it debuted at Telluride this year, we might already have seen the movie. Instead, the Weinstein Company has focused on other movies for awards season (The Iron Lady, The Artist and My Week With Marilyn) and is holding Butter for release on March 26, 2012.
And while the Telluride reviews came down to "good, but not great," there's still plenty of reason to be interested in the movie: Jennifer Garner playing/parodying Sarah Palin; a reportedly strong dramatic performance from Rob Corddy; a small role from Hugh Jackman as a used car salesman; and, as Pete said in his Telluride coverage, "a sex scene between Twilight star Ashley Greene and Olivia Wilde which will be the talk of the internet."
That's Wilde in her getup for the film above, and after the break we've got a few more shots from the upcoming comedy.
As Pete said, "Jennifer Garner plays Kaitlen Pickler, the ambitious conservative wife of Iowa's reigning 15 year butter sculpting champ (Ty Burrell) who decides to enter the race on her own when he is forced to retire. The only obstacles that stand in her way are an adopted young black girl named Destiny (Yara Shahidi) who has a telent for butter carving and a stripper (Olivia Wilde) who has it out for Pickler."
We probably won't see a trailer for another month or two, but you can check out a bit of footage here. [via IndieWire]