Poster And First Look: Annette Bening And Kristen Wiig As Mother And Daughter In 'Imogene'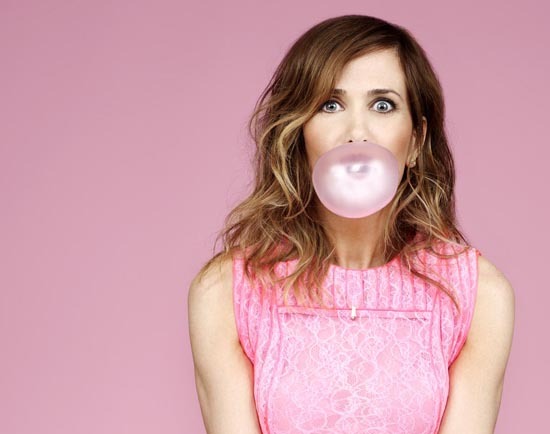 Kristen Wiig has been trying to get the dark comedy Imogene off the ground for a few years now, but it wasn't until she found huge success in this spring's Bridesmaids that things really started to pick up with her passion project. Now Imogene is shooting in various locations throughout the U.S. with American Splendor directors Shari Springer Berman and Robert Pulcini at the helm, and the first images and a poster have hit the web.
Scripted by Michelle Morgan, the story follows a New York-based playwright (Wiig) who fakes a suicide in order to get her ex-boyfriend's attention. Instead of winning him back, however, she ends up forced to move in with her gambling-addicted mother (Annette Bening) in New Jersey. Matt Dillon, Darren Criss, and Natasha Lyonne also star. Check out the photos after the jump.
[We've removed the images at the behest of the production company.]
Some of these stills are kind of boring, while others are kind of funny in and of themselves. Wiig's disgusted expression as Bening and Dillon suck face speaks for itself, as do the looks of puzzlement on Dillon and Christopher Fitzgerald's faces. I'm not really sure what to make of the shot of Criss performing — did a promo image for Glee somehow get mixed up with these stills? — but I guess now we know exactly how and why he got cast in this project.
As for Bening's attempt to "channel Snooki," as Vulture put it, I have to say I'm a tad disappointed. While this character is certainly trashier than, say, The Kids Are All Right's Nic, Bening needs to go several steps further if she really wants to look like she stepped off the set of Jersey Shore. For one thing, her skin should be much more orange — closer to the color of that hair.
Regardless, Imogene seems at this early point like it has a lot of promise. Wiig's demonstrated a knack for toned-down comedy and even drama, and Berman and Pulcini are pretty ideal picks to direct a dark comedy. Imogene will hit theaters sometime in 2012.