Buzz Lightyear Attends Group Therapy With Mermaid Jane Lynch In New Clip From 'Toy Story' Short 'Small Fry'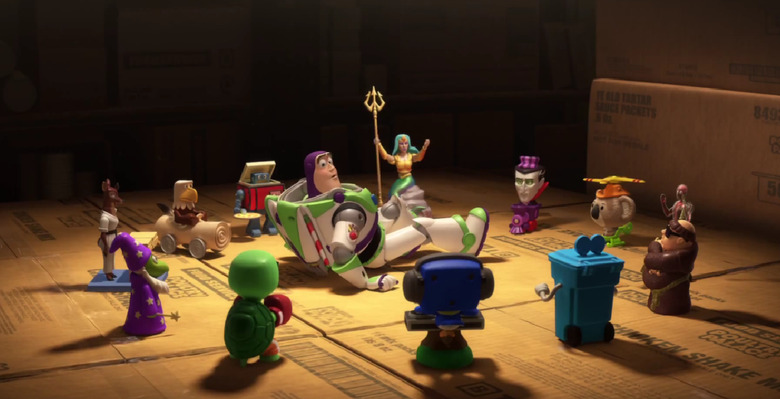 In case you didn't already have enough reasons to go see The Muppets, we present to you one more: Theatrical screenings of the Disney film will be preceded by a brand-new short from Pixar, with the Toy Story franchise's Buzz Lightyear front and center.
Titled "Small Fry," the seven-minute film introduces us to a tiny, fast food meal version of Buzz Lightyear (Teddy Newton) yearning for a better life than his current restaurant display case existence. To that end, he decides to kidnap the bigger Buzz Lightyear (Tim Allen) so that they can trade places. In the clip, the Buzz we know and love attempts a daring, space ranger-worthy escape from the fast food play pen — only to land squarely in the middle of a group therapy session for discarded Fun Meal toys. Jane Lynch lends her vocal talents to Neptuna, a narcissistic plastic mermaid who serves as the leader of the group. Watch the 30-second clip after the jump.
[via Empire]
"Small Fry" is written and directed by Angus MacLane, the Pixar animator who previously wrote and directed the Wall-E-related short "BURN-E." The new film will see Buzz having trouble extracting himself from the group, even though he doesn't exactly fit in. "There's something funny about having the action hero have to deal with something very mundane like escaping from an awkward social situation," said MacLane. "To me, that's funny." MacLane also acts in the film, as the voice of various toys including the T-Bone action figure seen toward the end of the clip.
Several other Toy Story favorites will also appear in the short, including Hamm (John Ratzenberger), Jessie (Joan Cusack), and of course, Buzz's BFF Woody (voiced by Tom Hanks) — who immediately recognizes the Mini Buzz as an imposter. "Small Fry" hits theaters with The Muppets November 23.