First Look: New Toy Story Short 'Small Fry'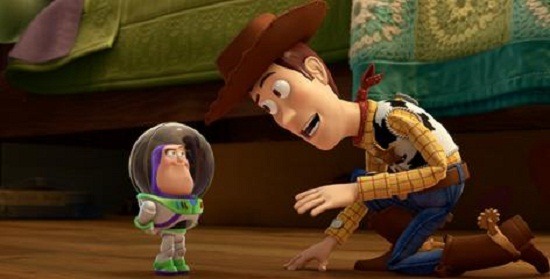 The new Toy Story short, Small Fry, is set to premiere in a couple weeks in front of The Muppets, and that's the first still from the new Pixar short, above. In Small Fry, Pixar director Teddy Newton voices a miniature version of Buzz Lightyear (Tim Allen), who replaces the full-size one. Some story info is after the break.
USA Today offers up the still image and this plot description:
A Happy Meal-type toy at a fast-food restaurant yearns to break out of his display case to play like a real toy. He kidnaps Buzz Lightyear in an attempt to take over his play-filled existence. The life-reversal forces the real Buzz Lightyear, voiced by Tim Allen, to deal with a support group for discarded, unloved fast-food toys. Though Buzz doesn't fit into the group, he has trouble exiting.
Writer/director Angus MacLane says,
It's like the Prince and the Pauper tale for toys. Except one of them happens to be 3 inches tall... There's something funny about having the action hero have to deal with something very mundane like escaping from an awkward social situation. To me, that's funny.