Billy Crystal Is The New Oscar Host [Updated]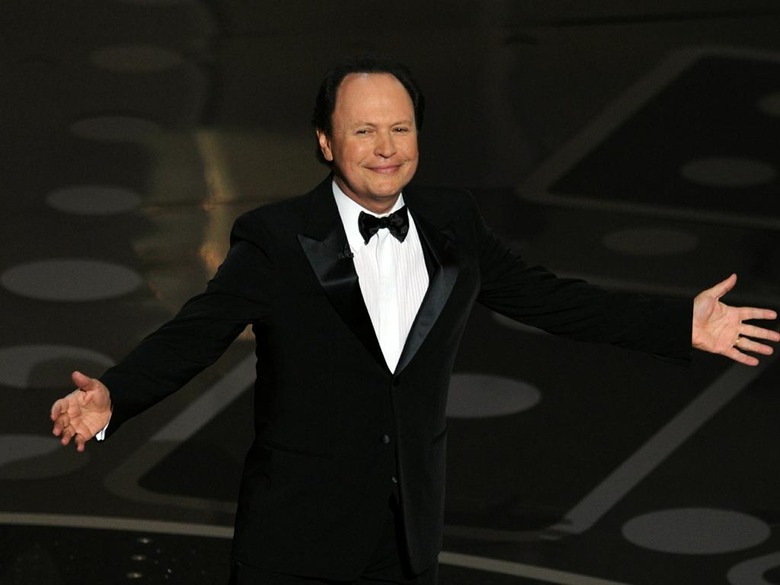 In the wake of Ratnergate and the subsequent departure of Eddie Murphy as the host of next year's Oscar ceremony and telecast, many questions have flown about who might step in to tell mild jokes and introduce musical numbers. The Muppets have a groundswell of support as possible hosts, but the logistics involved in making a Muppet-hosted Oscars work would seem to make that impossible. (That is, if the Academy was even really considering the option, which I doubt.)Brian Grazer took over as telecast producer from the departed Brett Ratner, and a more than a few jokes were made about last-minute calls going out to Billy Crystal to host the Oscars once more. Now Deadline says that Crystal is in talks to host.Updated: A tweet from Variety says that the Academy has confirmed Crystal as Oscar host.
Here's the quick timeline: Crystal tweeted that he is hosting: "Am doing the Oscars so the young woman in the pharmacy will stop asking my name when I pick up my prescriptions. Looking forward to the show."
The Academy has not yet released a statement, but it seems like this mild tempest is already settling.
Steven Zeitchik from the LA Times tweeted, "Crystal's tweet may or may have not been a joke. But we've confirmed with a source close to telecast. It's Crystal."
And Jeff Sneider from Variety said, "BREAKING: THE ACADEMY HAS CONFIRMED THAT BILLY CRYSTAL WILL HOST THE 2012 OSCARS."
You can still see The Muppets on November 23, at least. (Insert joke about Billy Crystal as Oscar muppet here.)