'Snow White And The Huntsman' Teaser Trailer And Poster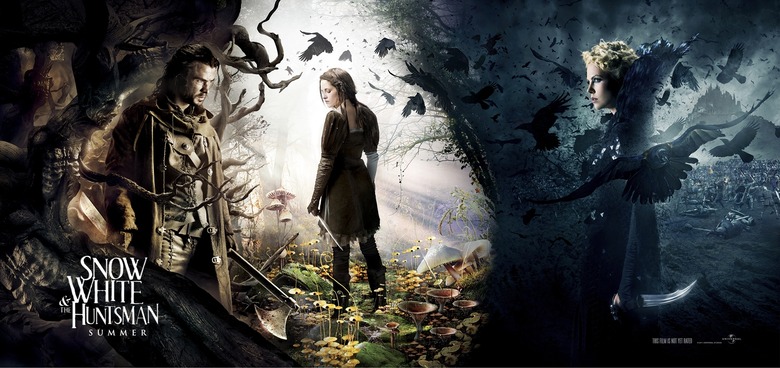 Here's the teaser trailer for Universal's Snow White and the Huntsman, the entry in the Great Snow White Race of 2011 that appears to be focused more on action and dark fantasy than anything else. Evan Daugherty wrote the script, and studio interest in his take helped kick off the Snow White fever that we're seeing culminate with this film and Tarsem's Mirror, Mirror.
Snow White and the Huntsman stars Kristen Stewart as Snow White, Charlize Theron as the evil queen who wants Snow White dead, Sam Claflin as the Prince, and Chris Hemsworth as the Huntsman who is tasked with killing Snow White, but preserves her life and trains her in survival and combat instead. Check it out below.
I like the visualization of some of the Queen's powers, and Charlize Theron is certainly a good choice to play that character. And that vaguely Shadow of the Colossus-like moment in the middle is quite pretty. As for the rest... well, I'd like to see how Kristen Stewart is really going to play this role, and this trailer does almost nothing to show her work.
Snow White and the Huntsman will be released on June 1, 2012. Watch the trailer in HD at Apple.
In the epic action-adventure Snow White and the Huntsman, Kristen Stewart (Twilight) plays the only person in the land fairer than the evil queen (Oscar® winner Charlize Theron) out to destroy her.  But what the wicked ruler never imagined is that the young woman threatening her reign has been training in the art of war with a huntsman (Chris Hemsworth, Thor) dispatched to kill her.  Sam Claflin (Pirates of the Caribbean: On Stranger Tides) joins the cast as the prince long enchanted by Snow White's beauty and power.
The breathtaking new vision of the legendary tale is from Joe Roth, the producer of Alice in Wonderland, producer Sam Mercer (The Sixth Sense) and acclaimed commercial director and state-of-the-art visualist Rupert Sanders.