New 'Snow White And The Huntsman' Banner Hints At The Film's Fantasy Atmosphere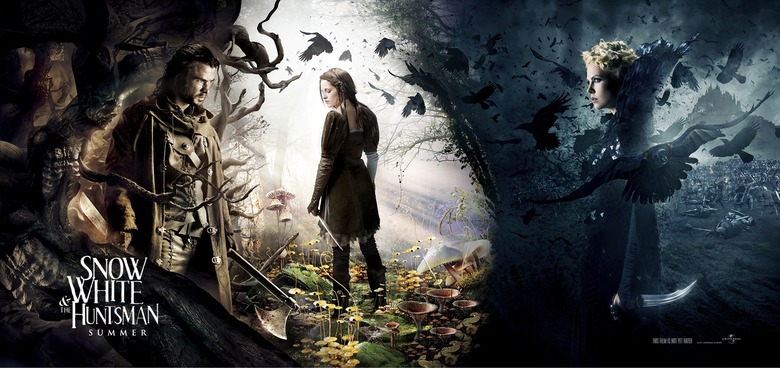 We don't usually highlight the release of a new advertising banner for any given film, as those banners are typically just a way to present existing art assets in a slightly new form.
But the last time we saw any imagery from Rupert Sanders' Snow White and the Huntsman was at Comic Con, when Universal released a quartet of character images. Now a new banner for the film highlights three of those characters, Snow White (Kristen Stewart), the Evil Queen (Charlize Theron) and the Huntsman (Chris Hemsworth).
More interesting is the fact that the background of the image suggests what the movie around the actors is going to look like. We'll see a full trailer for the film on Thursday, but for now check out the art in full below.
Click to enlarge, and keep in mind that this is being described as a fantasy action epic on the scale of the Lord of the Rings. (Despite being only one movie... so far.)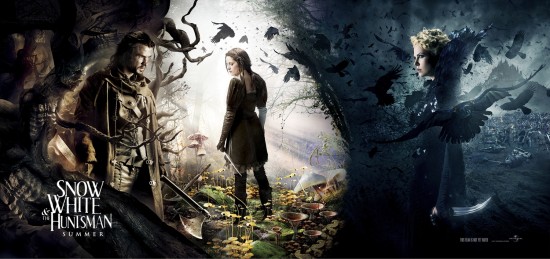 Snow White and the Huntsman will be released on June 1, 2012.
In the epic action-adventure Snow White and the Huntsman, Kristen Stewart (Twilight) plays the only person in the land fairer than the evil queen (Oscar® winner Charlize Theron) out to destroy her.  But what the wicked ruler never imagined is that the young woman threatening her reign has been training in the art of war with a huntsman (Chris Hemsworth, Thor) dispatched to kill her.  Sam Claflin (Pirates of the Caribbean: On Stranger Tides) joins the cast as the prince long enchanted by Snow White's beauty and power.
The breathtaking new vision of the legendary tale is from Joe Roth, the producer of Alice in Wonderland, producer Sam Mercer (The Sixth Sense) and acclaimed commercial director and state-of-the-art visualist Rupert Sanders.