'The Lorax' Australian Trailer Offers A Bleak Look At The Post-Once-Ler Landscape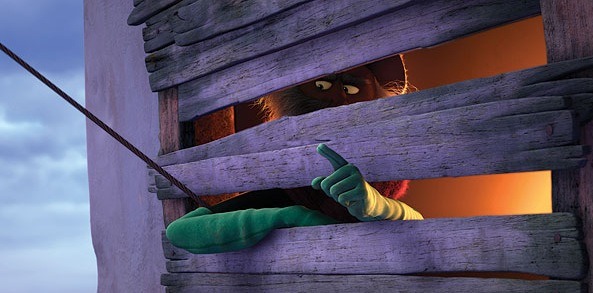 If last month's trailer for The Lorax seemed surprisingly cutesy and sweet for an urgent environmental fable, perhaps the new Australian trailer will balance it out. Where the last one really played up the colorful setting and playful tone, the new video offers a much better look at the destruction the greedy Once-ler (voiced by Ed Helms) hath wrought. Seriously, the Once-ler seems to live in some Seuss-ified version of the bleak post-apocalyptic landscape from The Road.
Based on a classic children's book by Dr. Seuss, the film sees a young boy named Ted (voiced by Zac Efron) who sets out to learn the true story of how the Once-ler came to trash the Truffula trees over the warnings of the righteous, if slightly annoying, Lorax (Danny DeVito). Watch the new trailer after the jump.
[via Cinema Blend]
Unfortunately, the new trailer also seems to have slightly lamer jokes and more of Helms doing his weird, unidentifiable accent as the older incarnation of the Once-ler; I think I preferred the last trailer. Overall, though, I'd say most of the stuff we've seen from this movie so far looks pretty good. Especially compared to some of the truly awful Dr. Seuss adaptations we've seen in the past.
Written by Ken Daurio and Cinco Paul and directed by Chris Renaud and Kyle Balda, The Lorax hits March 2, 2012.
Synopsis:
The 3D-CGI feature Dr. Seuss' The Lorax is an adaptation of Dr. Seuss' classic tale of a forest creature who shares the enduring power of hope. The animated adventure follows the journey of a boy as he searches for the one thing that will enable him to win the affection of the girl of his dreams. To find it he must discover the story of the Lorax, the grumpy yet charming creature who fights to protect his world. Danny DeVito will lend his vocal talents to the iconic title character of the Lorax, while Ed Helms will voice the enigmatic Once-ler. Also bringing their talents to the film are global superstars Zac Efron as Ted, the idealistic young boy who searches for the Lorax, and Taylor Swift as Audrey, the girl of Ted's dreams. Rob Riggle will play financial king O'Hare, and beloved actress Betty White will portray Ted's wise Grammy Norma.