The Crew Of 'A Very Harold & Kumar 3D Christmas' Lipdub's 'Party In The USA'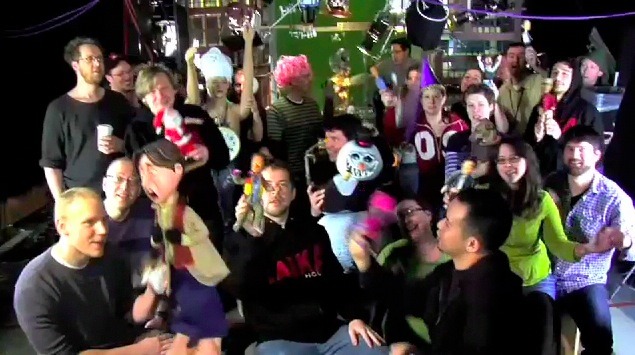 Watching A Very Harold & Kumar 3D Christmas, it's pretty damn obvious everyone making it is having a blast. Whether it's Neil Patrick Harris acting straight and referencing Starship Troopers to get a girl naked, Danny Trejo wearing an awful sweater, cast members referring to John Cho as "Sulu" or body parts liberally flaunted on screen, the whole thing is just totally over the top and fun. It would have to be for the following video to exist.
What follows is not for the faint of heart. It is, in fact, somewhat disturbing. This exclusive video features a good portion of the crew behind A Very Harold & Kumar 3D Christmas – everyone from an assistant editor, the composer, visual effects supervisors, line producer, full visual and digital effects teams and even director Todd Strauss-Schulson himself  – doing a lip dub of Miley Cyrus' hit single, Party in the USA. Check it out after the jump.
Thanks to @therealTSS on Twitter for sending this over to us. Enjoy.
You have to wonder if that unbridled passion for Miley Cyrus (who many of you might better know as her former TV alter-ego Hannah Montana) is simply because they're working on such a wacky, fun movie or if maybe everyone is just really drunk. Probably a mixture. But you've got to admit, that song is catchy whether you're under the influence or not.
Thanks again to Todd Strauss-Schulson and the team for not only sending us this video, but making a funny, irreverent 3D comedy.