Eric Bana And Danny Huston To Play Leads In Indie 'Elvis & Nixon'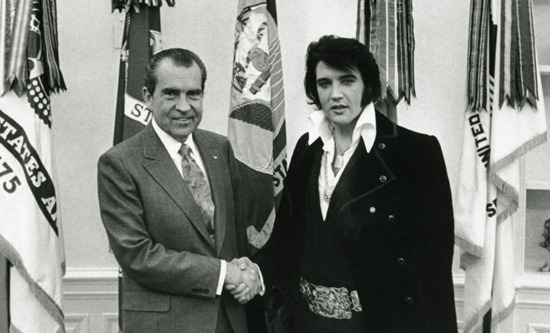 Here's one more film to watch crawl towards the screen in the coming months, thanks to the American Film Market. Elvis & Nixon is an indie based on the real-life meeting between the crooner and the President, and will mark the feature directing debut of actor Cary Elwes, who co-wrote with Joey Sagal and Hanala Sagal. (And who is probably still best known for his role in The Princess Bride.)
To play Elvis, Elwes and his producers have landed Eric Bana — strike that, Bana is one of the producers. Meanwhile, Danny Huston (The Proposition, Clash of the Titans, John Adams) will play Richard M. Nixon. And if this week's release of  J. Edgar proves anything, it is that you don't need someone who is a dead ringer for a famous figure. Actually, I'm not sure that J. Edgar really proves that, but regardless, Huston will probably make a better Nixon than does J. Edgar's Christopher Shyer.
The full press release, with some story detals, is below.
Los Angeles, CA (November 8, 2011) – K5 International, a division of K5 Media Group has picked up international rights to Benaroya Pictures' ELVIS & NIXON. The comedy will mark Cary Elwes' directorial debut and stars Eric Bana as Elvis Presley and Danny Huston as Richard Nixon. ELVIS & NIXON is produced by Michael Benaroya of Benaroya Pictures and Holly Wiersma. Bana's Pick Up Truck Productions is executive producing, marking the company's first U.S. production.
ELVIS & NIXON tells the story about Elvis Presley visiting President Richard M. Nixon at the White House in December of 1970. The meeting was initiated by Presley, who wrote Nixon a six-page letter requesting a visit and suggesting that he be made a 'Federal Agent-at-Large' in the Bureau of Narcotics and Dangerous Drugs. Presley brought with him family photos and a Colt 45 pistol as a personal gift to the President.
K5 co-founders Oliver Simon and Daniel Baur said "We're thrilled to be working with Michael having known him for a while now. He has fantastic taste and a remarkable eye for talent and truly original material. "
Benaroya said "We are excited to be in business with Oliver and Daniel and look forward to working with them as we bring the film to the global marketplace." Carl Clifton Partner in Sales and Marketing, added " We fell quickly and totally in love with this project. It's distinctive, fresh and very funny. You couldn't make it up." Elwes, Joey Sagal and Hanala Sagal wrote the screenplay. The production will commence principal photography in Shreveport and Los Angeles.
Benaroya Pictures' MARGIN CALL was recently released by Roadside Attractions and opened to rave reviews and has expanded theatrically nationwide to earn impressive box-office numbers.The film stars Kevin Spacey, Paul Bettany, Jeremy Irons, Zachary Quinto, Simon Baker, Penn Badgley, Demi Moore, and Stanley Tucci. Benaroya recently completed production on THE WORDS starring Bradley Cooper, Zoe Saldana, Olivia Wilde, Jeremy Irons, and Dennis Quaid. The Weinstein Co. recently acquired Benaroya's THE WETTEST COUNTY IN THE WORLD and is preparing for a Spring 2012 release.