Superhero Bits: The Dark Knight Rises Spoilers, Man Of Steel, Ghost Rider: Spirit Of Vengeance, Justice League Doom
Do you want to read bits related to Man of Steel, Ghost Rider: Spirit of Vengeance, Justice League Doom and Iron Man 2? Of course you do. Those are all on the first page but, after that, Monday's Superhero Bits delves deep into spoiler territory from the set of The Dark Knight Rises. Who is fighting who? What vehicles are on set? Does someone die? Which cameo is revealed? There's a ton of videos and photos featuring Catwoman, Bane, Batman and more. What are you waiting for? Superhero Bits begins right now.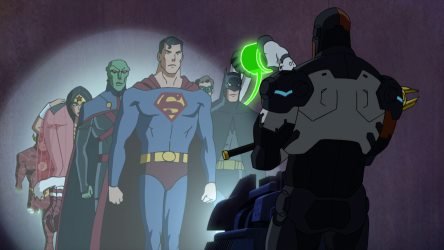 Comic Book Movie posted the above first glimpse at the upcoming Justice League Doom animated film. There's more on the February release below.College Humor has a new video today in which we see how Batman chose his voice.Henry Cavill is doing a bunch of interviews because Immortals comes out this week and, of course, he's being questioned about Man of Steel. Comic Book Movie rounded up a few interesting quotes including this one on how he reacts to internet criticism:
I block it out. You have to. Especially when it comes to whatever people want to say, and everyone's entitled to express their opinions. But you never know where an opinion's coming from or why it's coming in such a way. Sometimes it can affect you, certainly, so you have to be capable of taking everything with a pinch of salt. The nice stuff is nice. But it's like training. When you're training really, really hard and you're trying to achieve a certain look for your body, you look in the mirror and you ignore the good stuff because that's taken care of. It's only the stuff which you haven't quite got yet which you're panicking about. The same goes for any kind of Internet response or public response to a performance or the way I'm coming across.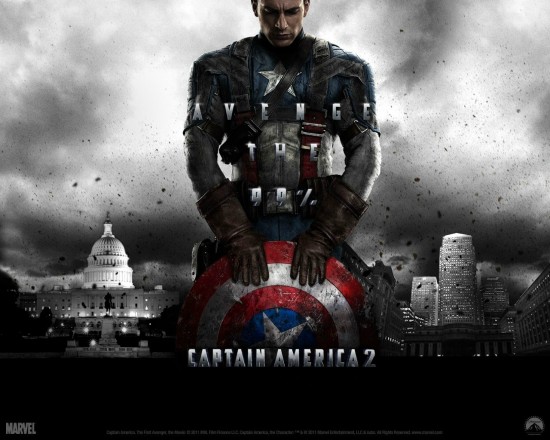 /Film reader Dan B sent in this photoshop of his timely idea for Captain America 2.
Get More: Movie Trailers, Movies Blog
MTV sat down with Neveldine and Taylor who said they learned a bunch of tricks to really stretch the PG-13 rating in Ghost Rider: Spirit of Vengeance.Mickey Rourke is still bad mouthing the production of Iron Man 2, accusing the suits of cutting his performance. Here's a quote from an interview with Crave Online. There's much more at the link:
You know, I didn't work for three months on the accent and all the adjustments and go to Russia just so I could end up on the floor. Because that can make somebody say at the end of the day, oh f**k 'em, I'm just going to mail it in. But I'm not that kind of guy. I'm never going to mail it in.
As promised above, here's more on Justice League Doom. This is a ten minute behind the scenes preview of the movie from the Blog of Oa (via CBM).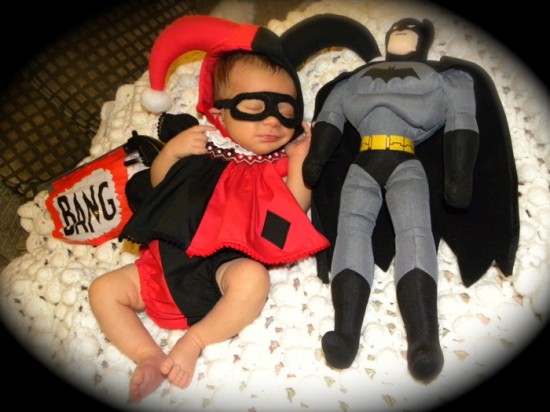 /Film readers Jennifer and Chad R sent us this adorable photo of their baby dressed up as Harley Quinn for Halloween.
That's the end of the non-spoiler stuff. The second page is all HUGE, AWESOME SPOILER PHOTOS, VIDEOS and FACTS about THE DARK KNIGHT RISES. Be warned.
Due to the amount of graphics and images included in Superhero Bits, we have to split this post over TWO pages. Click the link above to continue to the second page of Superhero Bits.
Christopher Nolan, Christian Bale, Tom Hardy, Anne Hathaway and the rest of The Dark Knight Rises crew were in New York over the weekend shooting a massive battle scene. There are photos and videos everywhere. Here's a selection with links to where you can see more.The New York Daily News has a VERY impressive gallery including this shot of Matthew Modine running and gunning as well the above slate. This is the must see gallery for spoiler hounds. Comic Book Movie has other links to photos from the same scene.Comic Book Movie also has a ton of videos giving an idea of just how massive this scene will be. Three Tumblers? Head to the link for alternate angles including one from on the ground.
Who else in this scene? Well, it seems Anne Hathaway as Catwoman gets into the mix. Thanks to Hollywood.com for this photo. There are a bunch more at the link.
Oh yeah. And Batman and Bane are fighting in the middle of all that mess. Here's an insane video from YouTube user
EidolonPictures. There are more at that link and a bunch of still images from WireImage and the AP over at CBM.CBM has another set of images from the above showdown. This is a good one.
But does everyone make it out of this skirmish alive? Maybe not. This video seems to show a character (reportedly Matthew Modine's according to this CBM post) meet his demise thanks to the Tumbler.
Fighting wasn't the only thing happening this weekend on The Dark Knight Rises. /Film reader and photographer Phil Langer linked us to his Flickr page with some exclusive images including Batman hiding away in the Batpod. Head there for many more.
Finally, after appearing in the previous two films, Hypable might have found out what exactly Cillian Murphy's role as Scarecrow is in The Dark Knight Rises. We're on the spoiler page so I feel fine posting this quote:
Cillian Murphy is playing Scarecrow and he is the new judge of Gotham and he is sentencing all the rich and social elite to either death or exile..which is basically the same thing