'Carnage' And 'Kill List' Reviews: Similar Titles, Wildly Different Films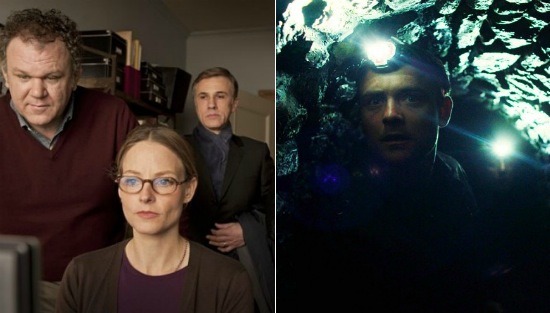 The titles Carnage and Kill List sound like they could be the same movie. Kill List: Carnage. Carnage: The Kill List. I'd see that movie. In reality though, they're two movies which, besides their ominous titles, couldn't be more different. One is a comedy, the other a thriller. One is American, the other British. One is from a well-known filmmaker, the other an up and comer. And one has four of our most celebrated actors while the other is populated by unknowns. Yet despite being so different, these two films, both of which played at AFI Fest Presented by Audi, make nice bed fellows because they're so different. Read some thoughts on both of them after the jump .
Carnage is directed by Roman Polanski and stars Jodie Foster, John C. Reilly, Kate Winslet and Christoph Waltz. Based on a play by Yasmina Reza, it's mostly set in a Manhattan apartment where two married couples argue about an incident between their young sons. As one would expect, the film is claustrophobic in size yet each character is so rich, each performance so delightful, Carnage ends up being a non-stop-joy. My only minor gripes are that it gets a little too convenient keeping everyone in the same room and the conversation regularly wanders into the trivial but, beyond that, the surprises and verbal battles that occur make for a true acting and comedy showcase. Carnage is one of the funniest films of the year. It's scheduled for release December 16.
/Film rating: 8 out of 10
Going into the Kill List, I'd heard nothing but positive, exciting buzz. People love it. Expectations were high. However when the final credits rolled, I felt like a kid who put together a puzzle only to realize a few pieces weren't in the box. It was a good, but disappointing experience.
Directed by Ben Wheatley, Kill List is best experienced if you know as little about it as possible. In short, it's a twisting turning hitman movie with a domestic subplot that starts off slow and builds to some neck-breaking surprises ultimately leaving its audience with more questions than answers. In an era where most movies are guilty of not being challenging or simply pretending to be before a big let down, I commend Kill List for leaving the audience wanting more. I'm all for a mystery. But I prefer a mystery where, if I really think about the film, I can begin to discern some answers. Kill List doesn't feel like a movie that contains any answers, just really screwed up and fascinating questions. And while that was obviously deliberate and will satisfy many, that doesn't make it any less frustrating. IFC is releasing the film on demand on January 4.
/Film rating: 5 out of 10