J.J. Abrams Wants Benicio Del Toro To Be Next 'Star Trek' Villain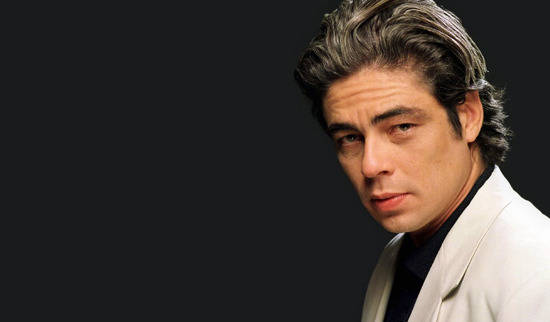 For Star Trek: The Wrath of Khan, director Nicholas Meyer knew he needed a larger than life, imposing personality to play the lead villain Khan. He, of course, went with Mexican born actor Ricardo Montalbán to play the role he originated on the show. In the new Star Trek sequel, director J.J. Abrams is said to also be eying a debonair actor from a neighboring country to plague the Starship Enterprise: the Puerto Rican born Oscar-winner Benicio Del Toro. Variety reports Del Toro has met with Abrams and will soon be offered the mystery role of lead villain in the upcoming sequel to 2009's Star Trek.
Thanks to Variety for the scoop. The only other tidbit in their story is that, reportedly, Abrams wouldn't tell Del Toro what the role is when they met. Frankly, I find that hard to believe — Del Toro is an Oscar-winner after all — but the film is certainly a high priority, secretive project in the J.J. Abrams mold of things so who knows. The offer is said to be going out this weekend.
Who Del Toro would play, however, is anyone's guess. Could it be Khan? Seems feasible. Could it be a bad-ass Klingon? That makes sense too. Or maybe, much like in the first film, he'll just be a brand new character like Eric Bana's Nero. Only Paramount, J.J. Abrams and screenwriters Alex Kurtzman, Roberto Orci and Damon Lindelof know for sure.
Star Trek 2 (not the official title) was first scheduled to be released this coming Summer but Abrams got so busy with Super 8, the film was pushed to, most likely, Summer 2013. No release date has officially be set. Shooting is scheduled to begin in January though and everyone who survived the first film, which is more or less the lot, is scheduled to return.
Who do you think Benicio Del Toro would play in Star Trek 2? Do you think he fits into the universe?