First Look: Helena Bonham Carter As Miss Havisham In Mike Newell's 'Great Expectations'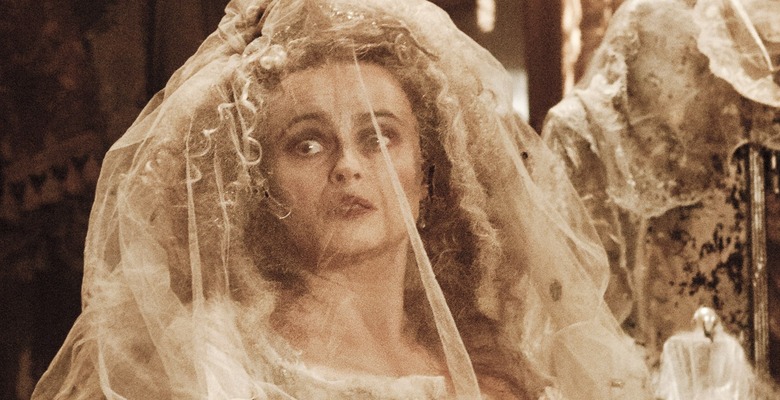 If you ask me, Helena Bonham Carter playing bitter Miss Havisham in Mike Newell's Great Expectations has sounded like ideal casting from the very start. But if you had any doubt in your mind whatsoever as to Bonham Carter's suitability, let these new photos put those worries to rest. Two new stills from the film have been released, showing Bonham Carter looking right at home as the shut-in of Charles Dickens' classic tale. After getting ditched at the altar, the character wastes away in her decaying wedding dress for the rest of her life.
Also starring in Newell's adaptation are Ralph Fiennes, Holliday Grainger, Robbie Coltrane, Jason Flemyng, Sally Hawkins, and War Horse actor Jeremy Irvine as protagonist Pip. Check out the images after the jump.
[via Deadline]
Miss Havisham is the ultimate woman scorned: Upon discovering that the man she loved has left her, she withdraws into her house, stops all her clocks, and refuses to change out of her wedding dress, leaving even the wedding cake untouched to be eaten by rats. She eventually adopts a girl named Estella (Grainger), and trains her to break men's hearts in an attempt to get vicarious revenge on all men. Pip and Estella first meet as children, whereupon Pip falls in love with her. When Pip comes into a mysterious fortune that allows him to become a gentleman, he uses his new station in life to pursue her.
Bonham Carter steps into a role that's been played previously by Charlotte Rampling, Anne Bancroft, Jean Simmons, and Martita Hunt. Most earlier incarnations of the character have aged up the character, but Bonham Carter will play Miss Havisham closer to the age Dickens originally intended (mid-50s).
Newell's Great Expecations is currently shooting for a U.K. release in fall 2012. No American opening date has been set at this time.