Drafthouse Films To Distribute Festival Favorites 'Bullhead' And 'Clown'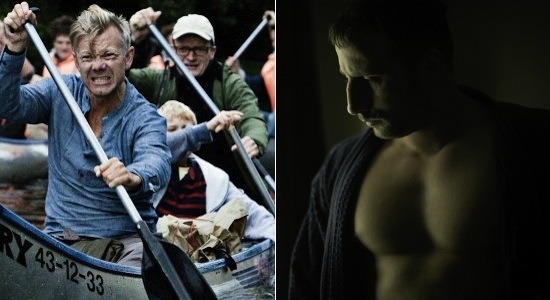 One is an Oscar-hopeful about a steroid-pumping, hormone-selling gangster. The other an over-the-top cringe comedy about an 11-year-old joining two men on a trip to a whorehouse. And, in some weird way, it makes total sense that you'll get to see both on the big screen thanks to Drafthouse Films. The Alamo Drafthouse's distribution arm just announced it will handle the U.S. release of Bullhead, Belgium's official 2012 Oscar candidate for Best Foreign Language Film and Clown, a Danish comedy in the mold of Curb Your Enthusiasm based on a popular TV show. Read more after the break.
In addition to these two new films, Drafthouse has partnered with Image Entertainment to extend their brand outside of the theater and into other media such as home video, digital, television and VOD platforms.
Back to the films that the Drafthouse will now be bringing to U.S. screens. Both were massive hits at Fantastic Fest 2011, each taking home the Best Picture award in their respective categories: "Next Wave" for Bullhead (because it's director Michael R. Roskam's debut film) and "Gutbuster Comedy" for Clown because, well, it's a comedy.
While I wasn't a huge fan of Bullhead, I was in a very tiny minority with that opinion. Many festival goers were so enamored about the story of a man who suffered a horrible tragedy and turned it into a life of organized crime that they chose to see the film multiple times. You can read more about it here.
Clown, directed by Mikkel Nørgaard, follows two friends on a "Tour De Pussy" away from their respective others. One of them decides to bring his 11-year-old nephew which, of course, is a terrible idea. The film is brutally uncomfortable in the best possible way and will find its audience for sure. It's hilarious.
Drafthouse Films founder Tim League said the following:
We are ecstatic about adding BULLHEAD and CLOWN to our growing lineup of films. They perfectly embody the bold and diverse slate that we plan to release under Drafthouse Films, and Image Entertainment is the perfect partner to help us get the broadest possible reach for them.
Is this the first time you've heard of these films? Does the Drafthouse label give the film a stamp of approval in your book?