Animated 'Popeye' Film Gets 'Smurfs' Screenwriters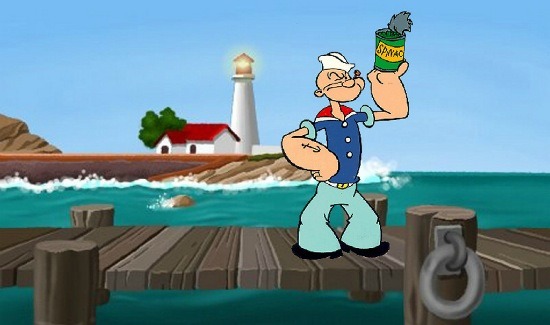 While most people know and think of Popeye as an animated character, his only feature film incarnation was flesh and blood in the person of Robin Williams. Sony seems to think audiences would like to see the spinach-eating sailor man back in his purest form, though, as they've been developing a 3D animated film since early last year. And while the waters were still for some time, there's finally been some movement. Jay Scherick and David Ronn, the writers behind this year's hit film The Smurfs, have been hired to bring Popeye to life in the 21st century. Read some quotes about the film after the break.
Coming Soon was the first to get word of Sony's decision to hire Scherick and Ronn via press release. Michelle Raimo Kouyate, president of production for Sony Pictures Animation hinted at their take on the material:
We're thrilled that Jay and Dave are helping us reintroduce Popeye to a new generation. Their take on the world of Popeye has just the right blend of comedy, adventure and heart — all the elements that made a great animated film.
And producer Avi Arad likened Popeye to a superhero:
Popeye has been my childhood favorite character. To me he was always the everyday man who gets special powers and actually becomes the first superhero in the best meaning of the word. When Scott Sassa called, Ari and I were beyond excited to be working with Jay Scherick & David Ronn and Sony Pictures Animation to bring this iconic character to the big screen in glorious stereoscopic 3D. We enjoy working with the Sony Pictures Animation team and with Rocky and company from Hearst Publishing. I cannot wait to go sailing!
Since the film is just getting to the script stage now, there's no word on when we might see it released but, from the first announcement of the movie, we do know it'll be computer animated 3D and not hand drawn like the original cartoons.
Do you think Popeye is a character today's (or, more likely by the time this film is released, tomorrow's) audiences will still embrace?