Casting Bits: Emma Stone In 'He's F*ckin' Perfect', Michelle Monaghan In 'Fast Flash To Bang Time', Brian Cox In 'Dog Fight', Alice Eve In 'Decoding Annie Parker'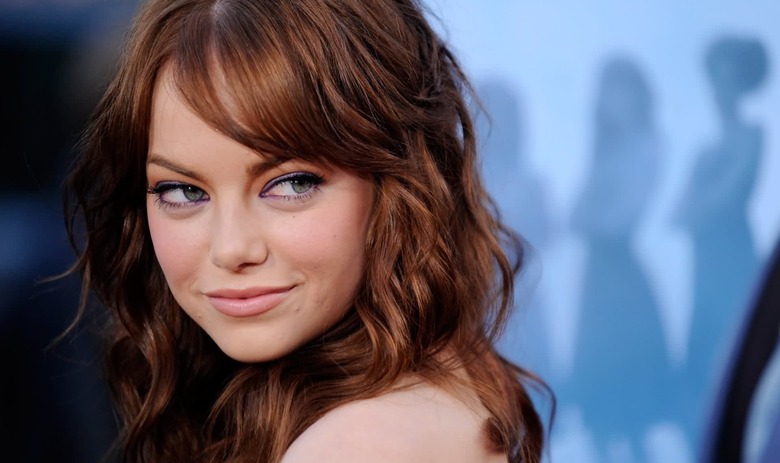 Emma Stone has been moving into more dramatic territory lately with parts in The Help and Gangster Squad, but she may be returning to her comedy roots soon. The actress has entered talks to star in He's Fuckin' Perfect, a comedy by first time feature writer Lauryn Kahn. The film is being produced by Will Ferrell and Adam McKay's Gary Sanchez Productions, where Kahn has worked for the past several years as McKay's assistant.
He's Fuckin' Perfect revolves around a pessimistic woman who uses her social media know-how to research her friends' dates and help them weed out the losers. But when she stumbles across the ideal man, she convinces her friend to dump him so that she can claim him for herself, using her Internet savvy to turn herself into his perfect match. [Deadline]
After the jump, Michelle Monaghan is a sex-addicted FBI agent, Alice Eve is a homewrecker, and Brian Cox gives Zach Galifianakis some serious daddy issues.
Brian Cox has just had a couple of dramatic turns in Corolianus and Rise of the Planet of the Apes, but he could be tackling something much lighter soon. The Scottish actor is in talks to join Jay Roach's political satire Dog Fight, about two North Carolina politicians (Zach Galifianakis and Will Ferrell) running against each other in a district election.
Cox would play Galifianakis' father, a former Senator who's always been distant from his family. Galifianakis is an expert at playing weepy man-children and Cox is excellent at playing a**hole father figures, so this sounds like a match made in heaven. Also lined up co-star are Jason Sudeikis, Dylan McDermott, Sarah Baker and Katherine LaNasa. Shooting is slated to start this month in New Orleans for an August 10, 2012 release. [Variety]
Steven Bernstein's indie dramedy Decoding Annie Parker continues to collect rising stars with the addition of Alice Eve. The film is based on the true story of geneticist Mary Claire King (Helen Hunt), who discovered the breast cancer gene with the help of cancer patient Annie Parker (Samantha Morton). Aaron Paul, Corey Stoll, Maggie Grace, Rashida Jones, and Christina Hendriks also co-star.
Eve will play Louise, a former friend of Parker's who has an affair with Parker's husband. Decoding Annie Parker is currently filming in Los Angeles. [The Hollywood Reporter]