Cool Stuff: Iam8bit Gallery Show 'Licorice Flix' Recreates Movie Images With Candy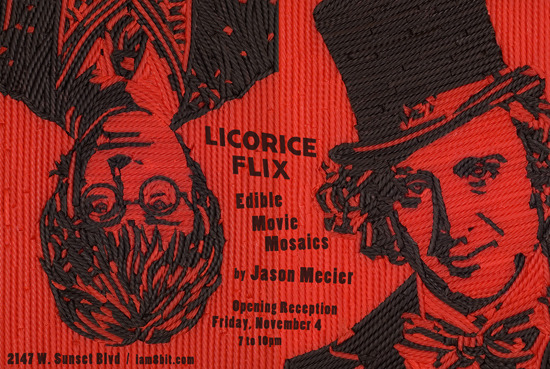 The iam8bit crew was born out of an enthusiasm for video games and pop art, with the iam8bit gallery being most famous for shows featuring fun reinterpretations of video game scenes and icons.
But the group is starting to venture into the world of movies. The last SUPER iam8bit show featured a great many pieces inspired by the documentary The King of Kong, for example. And now the gallery's new show, which opens tomorrow, is Licorice Flix: Edible Movie Mosaics by Jason Mecier. See some more images and a crazy teaser video below.
Here are some preview images iam8bit sent over when we inquired about the show:
This is the basic info:
While LA is a movie town, characters from the big screen have never been immortalized quite like this! Artist JASON MECIER has chosen some of his favorite icons from the silver screen, creating large-scale portraits made exclusively out of Red Vines!Yes, that's right!
Every piece of art hanging on the walls of this LICORICE FLIX exhibition is an edible movie mosaic, comprised entirely of that favorite theatre snack. We invite you to come out and enjoy this celebration of Hollywood and all its popcorn stars, featuring odes to:
Harry Potter
Charlie Chaplin
Willy Wonka
Freddy Krueger
E.T.
Showgirls
Twin Peaks
...and others!
Drinks will be served!
Movies will be projected!
and...
We literally have a ton (yes, a metric ton) of Red Vines candy to give away for all who join us!
You can get more details on Facebook or at the iam8bit site.
Here's a slightly...odd teaser for the show:
And here's a teaser image for the next Iam8Bit show: