'Project X' Trailer: A Block-Rocking Mashup Of 'Jackass' And 'The Hangover'?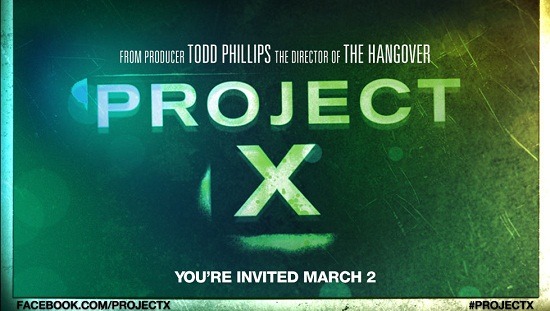 Over the past year we've heard small news here and there about Project X, a high school party comedy from producer Todd Phillips (director of Old School and The Hangover) and first-time feature director Nima Nourizade.
The film follows a high school party that grows to massive size, and eventually gets out of control. Reports out of test screenings have called Project X "the new Superbad" and similar superlatives. Now there is a trailer that suggests that Project X will really be like watching one long high school party. I can't decide if that's a good thing or not — see for yourself after the break.
So in the '80s and '90s there were the giant staged MTV Spring Break specials, and now we have this vision of the ultimate underage party, enhanced by Central Casting models and a budget that wouldn't feed the electricians on a Michael Bay movie, but far outstrips and sweet 16 you've ever been to.
Thomas Mann, Jonathan Daniel Brown and Oliver Cooper are the stars, and Matt Drake (Necessary Death of Charlie Countryman) and Michael Bacall (Scott Pilgrim vs. the World) wrote the script. Michael Bacall's involvement is interesting, but at this point I can't even tell what this movie is really going to be.Apple has the trailer in HD. Project X hits on March 2, 2012.
Three high school seniors throw a birthday party to make a name for themselves. As the night progresses, things begin to spiral insanely out of control as word of the party spreads.