Watch The Muppets Appearance On 'WWE Monday Night Raw'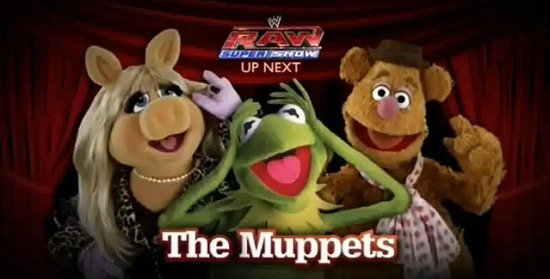 This is a bit weird. The WWE show Monday Night Raw has turned into a hotbed of movie cross-promotion. Hugh Jackman recently appeared on Raw to help promote Real Steel, and the results were sometimes difficult to watch.
Now it is the Muppets turn. Jim Henson's lovable creations spent a few minutes on the show this week to raise awareness of the November 23 release of The Muppets. There is some interplay between Kermit, Miss Piggy and some of the WWE wrestlers, in which the puppet actors handily perform circles around the ring kings. Happily, a big chunk of the spot is given over to Dr. Bunsen Honeydew and Beaker, and those two always make me happy, no matter the context. Hit the jump to go ringside with the Muppets.