Taylor Lautner To Produce, Star In Gus Van Sant's Next Project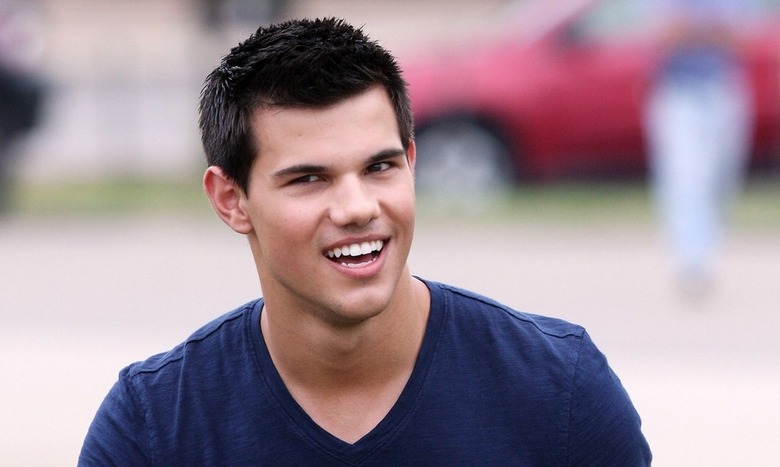 For a while there, it looked like Taylor Lautner was going to make his name as a young action star, landing high-priced deals in projects like Stretch Armstrong. But after the critical and commercial disappointment of Abduction, Lautner is now exploring a different path. The Twilight star is finalizing a deal to produce and star in auteur director Gus Van Sant's next directorial effort, a small-budget picture based on a New Yorker article that Lautner optioned. More after the jump.
The Van Sant collaboration is a rather unexpected move by Lautner, who's been looking mostly at bigger, more action-oriented projects ever since he first broke out as dreamboat werewolf Jacob Black in the Twilight franchise. Over the past few years, he's been considered for or attached to Relativity's Goliath, that Michael Bay project, the sci-fi thriller Incarceron, the "junior Top Gun" film Northern Lights, and the toy-based adaptation Max Steel. Still, a smaller arthouse picture could end up being a good idea if Lautner manages to show off some real acting chops and prove that he's more than just a set of rock-hard abs.
Then again, maybe the Lautner-Van Sant team-up isn't completely out of nowhere. After all, Van Sant was one of the final contenders to direct The Twilight Saga: Breaking Dawn (thanks in part to a recommendation by star Robert Pattinson) before the job ultimately went to Bill Condon.
Van Sant's most recent feature was the teen romance Restless, with Mia Wasikowska, Henry Hopper, and Ryo Kase, which opened in September. In addition, he's involved with the original Starz drama Boss, starring Kelsey Grammer. Lautner will next appear in The Twilight Saga: Breaking Dawn – Part I, which opens later this month.