Terrence Malick Overdrive: Director Announces 'Lawless' And 'Knight Of Cups,' Both With Christian Bale And Cate Blanchett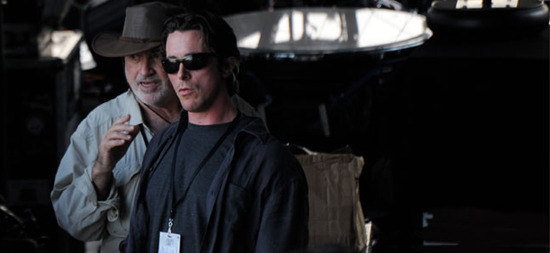 I don't know what meds Terrence Malick started taking last year, but I like the result. From 1973 to 2011, the director released only five films. Now he has another four in the pipeline. Malick took years finishing The Tree of Life and is still reportedly working on the IMAX doc Voyage of Time. That latter film is new project number one.
He has already shot a film that may or may not be called The Burial, which features Ben Affleck, Rachel McAdams, Javier Bardem and Rachel Weisz. That's number two. And he has been prepping a movie with Christian Bale and newcomer Haley Bennett, which shot partially at the Austin City Limits fest in mid-September. That's number three, and the title has been revealed as Lawless.
In addition to those, he has a fourth film on the docket, also with Bale: Knight of Cups. Details on both of those last two films are after the break.
Let's go all press release-style first, as FilmNation has announced these projects as part of the American Film Market:
FilmNation Entertainment is continuing their relationship with acclaimed director Terrence Malick (The Tree of Life, The Thin Red Line) and handling international sales and distribution on his next two films. LAWLESS will star Ryan Gosling (Drive, The Ides of March) and boasts a supporting cast that includes Academy Award Winners Christian Bale (The Dark Knight, The Flowers of War), Cate Blanchett (The Hobbit, The Curious Case of Benjamin Button) plus Rooney Mara (The Girl with the Dragon Tattoo, The Social Network) and Haley Bennett (Marley & Me, The Haunting of Molly Hartley).
The second film, KNIGHT OF CUPS, will star Christian Bale with a supporting cast including Cate Blanchett and Isabel Lucas (Immortals, Transformers: Revenge of the Fallen). Both films are currently in pre-production and will shoot back-to-back in 2012. Sarah Green (Untitled Terrence Malick Project, The Tree of Life, The New World, Take Shelter, Mud) and Nicolas Gonda (Untitled Terrence Malick Project, The Tree of Life, The New World) will serve as the producers on both films with FilmNation Entertainment handling international sales during this week's AFM.
So, to sum up: two films, Lawless and Knight of Cups, have been announced with plans to shoot back to back in 2012 with Bale and Blanchett, plus Ryan Gosling, Rooney Mara and Haley Bennett (in Lawless) and Isabel Lucas (in Knight of Cups). Insanity!
And note that I'm assuming that Lawless is the same movie that Malick was shooting at ACL with Bale and Bennett not long ago. If not, he's actually got five films in the offing, rather than four.
FilmNation has a lot going on at the AFM — it is also selling domestic distribution rights to the Zhang Yimou WWII film with Christian Bale, The Flowers of War, and started rolling on a post-apocalyptic thriller from writer/producer Oren Peli, which is also being sold at the market.
(Note: You might see Badass Digest using this same headline; Devin and I both started to use it independently of one another, and both of us like it too much to let go. So we'll share!)