Bill Paxton To Direct Adaptation Of TV Classic Show 'Kung Fu'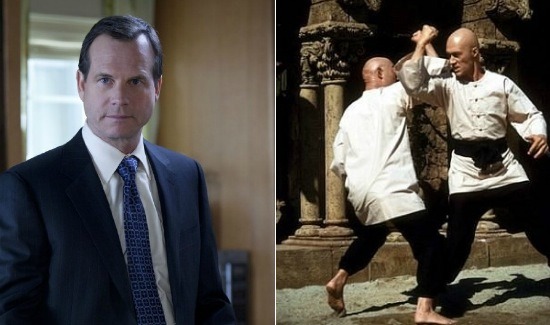 Even though the bulk of my Kung Fu knowledge comes from Jules in Pulp Fiction and Peter in Office Space, I still know this is big news. Bill Paxton, star of such films as Twister, Aliens and Titanic and the director Frailty and The Greatest Game Ever Played, is in talks to direct a feature film based on classic 1972 TV show which starred David Carradine. John McLaughlin (Black Swan) will pen the screenplay. More after the jump.
Kung Fu is being developed by Legendary East, who is also producing Ed Zwick's The Great Wall. The company is a fairly new off-shoot of the popular Legendary Pictures, which produces such massive hits as The Dark Knight and The Hangover. They hope to have the project ready to film in China during Summer 2012.Deadline first broke the news of Paxton's involvement and Variety revealed the screenwriter. The show itself was about a Shaolin Monk who traveled the American West in search of his brother. However, along the way, he would get into crazy adventures interspersed with flashbacks to his upbringing. It ran for three seasons between 1972 and 1975 and made a star of Carradine.
Since then, the series has become something of franchise, spawning a movie in 1986 as well as several spin-off series', many of which starred Carradine. The most famous of these, Kung Fu: The Legend Continues, aired for a season longer than the original show and ended in 1997.
I never got into the whole Kung Fu thing growing up and, as I said above, I think I mostly became aware of it through the words of Quentin Tarantino and Mike Judge. But if those two guys think highly enough of the show to make it a defining characteristic of their main characters, that's good enough for me.
Do you think there's a good movie to be made here? What about Paxton as the director?