John Goodman Cast In The Coen Brothers' 'Inside Llewyn Davis'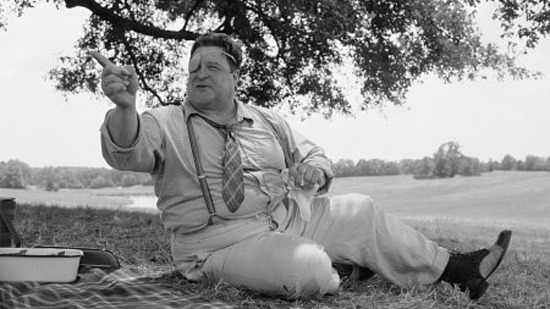 Reading the comments on the piece that ran this weekend, I guess a lot of people aren't happy with the fact that Justin Timberlake is likely to be cast in Joel and Ethan Coen's new film, Inside Llewyn Davis. I don't really get that — the Coens have shown almost purely impeccable taste in casting throughout their career, and I'm not going to start questioning them now.
Regardless, this current news should be a lot easier for long-time Coen fans to appreciate. John Goodman is strongly rumored for a role in the film, which would make this his fifth collaboration with the Coens after Raising Arizona, Barton Fink, The Big Lebowski and O Brother, Where Art Thou?. (Or sixth, if you count his small role as a newsreel announcer in The Hudsucker Proxy.)
Roger Friedman says that Goodman will be in the new film, which is based in part on Dave Van Ronk's book The Mayor McDougal Street, which chronicles the folk scene in '60s New York.
Oscar Isaac already has the lead role with Carey Mulligan playing another significant part. Justin Timberlake has been offered a role named Jim, which is the husband of a woman named Jean, to be played by Mulligan.
It's a good year for Goodman. He's in the well-liked festival hit The Artist, which is almost certain to get some Oscar love. And he's in Extremely Loud and Incredibly Close, as well as the occasional episode of Community.