Exclusive Illustrations From 'Rare Exports: A Christmas Tale'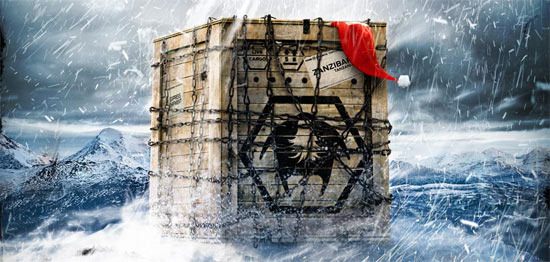 If you're feeling a little Halloweened out today, maybe jump ahead a few months to Christmas. That holiday has a laundry list of films we traditionally watch and, last year, a new one fought its way onto the list: Rare Exports: A Christmas Tale. The Finnish film from director Jalmari Helander is about an archaeological dig that unearths the real Santa Claus. And Santa is not at all jolly. It's now available on Blu-ray and DVD and we're excited to debut some exclusive, original illustrations that were used in the film. Check them out after the jump.
Several of these illustrations, but not all, were used in the final film. They give you a good idea of the kind of creepy, Gothic spin Helander's film puts on the Christmas holiday.
If this is all confusing to you, here's some more info. Peter liked the movie a lot when it played Fantastic Fest 2010 and said the following:
Directed by Jalmari Helander, based on the 2003 short film, Rare Exports feels like a fusion of Joe Dante and Guillermo del Toro....The movie isn't really a horror film, although it has some horror elements. It looks and feels like the Christmas movies I watched as a kid (for example, Jeannot Szwarc's Santa Claus: The Movie). Although if I had seen Rare Export as a child, I would have been frightened of both Santa Claus and the entire Christmas holiday. It's a really fun film which I hope people get a chance to see.
And now you can. Head over to Amazon or wherever you buy your DVDs.
Here's the trailer for the film.
Have you seen Rare Exports: A Christmas Tale? Are you excited to?